The stock market is oversold, so I am hunting for bullish setups in the charts. Apple (AAPL), the iShares MSCI Brazil Index Fund ETF (EWZ), and the iShares MSCI Australia Index Fund ETF (EWA) are a few of the charts that have caught my interest.
Apple (AAPL) plunged through dual supports and bounced right back all in the span of about two hours into the close. I strongly suspect many stops were taken out, ejecting sellers from their positions in AAPL. If Thursday's lows can hold, AAPL may finally set up a firm floor for a decent oversold bounce.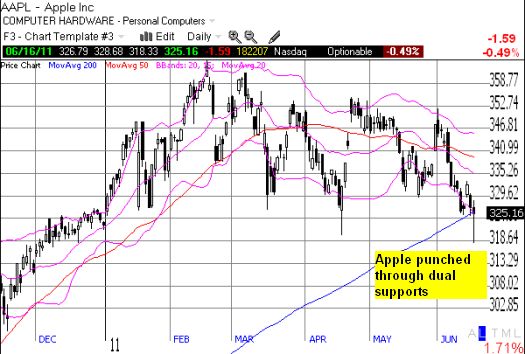 If I had been paying attention, I might have made a speculative bet on June 325 calls in the middle of the plunge.
The iShares MSCI Brazil Index Fund ETF (EWZ) is trying to form a triple bottom for 2011. Triple bottoms are made to be broken, so I expect sooner than later EWZ will continue its move down and, perhaps, finally deliver the 20% correction from 52-week highs that will get me buying the ETF again (see "The '20% Rule' Works Again on the Brazil Index Fund (EWZ)" for an explanation of my "20% rule" for buying EWZ). Such a drop is a tall order because it would represent a complete reversal of all the gains EWZ recorded in the wake of QE2's unofficial start at the end of August last year.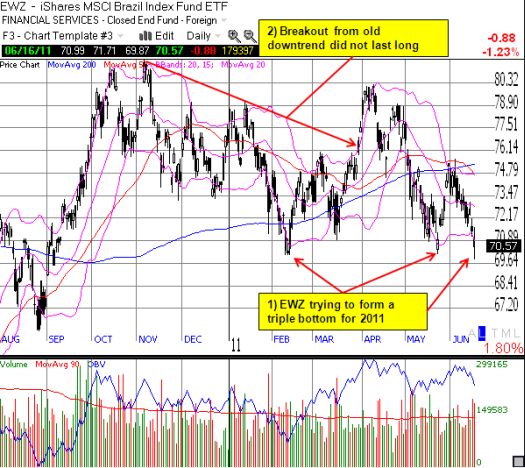 I missed buying the iShares MSCI Australia Index Fund ETF (EWA) during the last correction. EWA made a nice bounce off the 200DMA. As EWA tests the 200DMA again, I am watching like a hawk for signs that a support has likely been established. I am very interested in increasing my exposure to Australia, and I feel under-invested with my small holdings in the ETF for the Australian dollar (FXA is my oldest position!).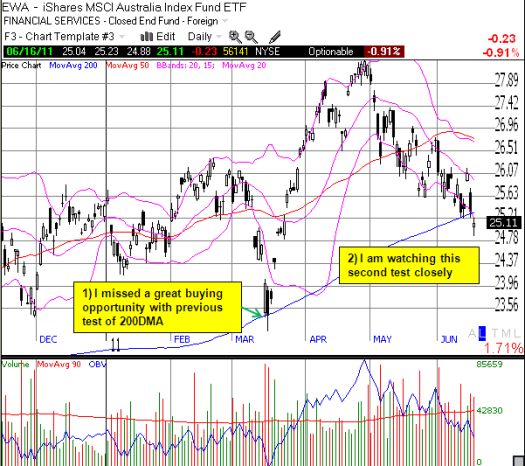 Be careful out there!
Full disclosure: long FXA