Silver finally hit fresh highs on Thursday, and I am now forced to pull out "Plan B" on re-establishing a position in the precious metal. I had expected the "cooling off" period to end with a retest of the 200-day moving average (DMA) and an opportunity to scale back into silver at my own, leisurely pace. Instead, it looks like silver is now hurtling toward what James Turk from Resource Investor calls Stage 2 (of 3) of silver's bull market – which he estimates will be silver at $50.
Plan B involves accelerating the rebuilding of a silver portfolio by starting with a small amount of the iShares Silver Trust ETF (SLV) at these fresh highs and buying aggressively on dips. Under Plan A, I bought Pan American Silver (PAAS) during its steep January correction, but I never got the even lower prices to buy a second and third tranche. Now, I will put those plans on hold as I buy into SLV. (As a reminder, I treat the miners as shorter-term trades around a core commodity position). Note that PAAS is still well off its highs by 20%.
So, did I learn my lesson about sticking with a bull market? I sure did. Do I regret the trading decisions I made over these many months? I sure don't. I laid out a plan, with contingencies, and executed. However, I will be much more firm about sticking with the silver bull market going forward. Indeed, I see no reason to abandon silver (or gold) until such time the Federal Reserve enters a tightening cycle…and such a thing appears a long way away. It also helps that Bank of England Governor Mervyn King has made it quite clear in this week's release of the BoE's Inflation Report that he remains unconcerned with inflation rates that persistently and stubbornly print well above the BoE's mandated target of 2%.
The next question is whether gold will ever correct toward its 200 DMA or will I be forced to go to Plan B on it too. I currently only have one tranche of Goldcorp (GG) in my hip pocket…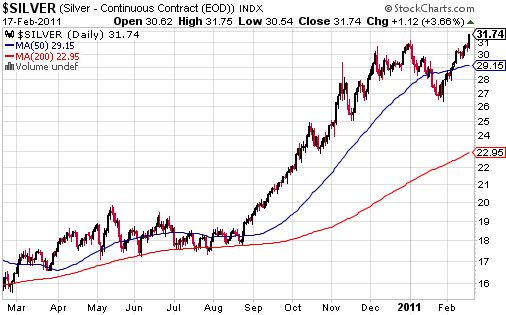 Source: stockcharts.com
For an interesting, mainly bullish, outlook on silver see "Silver's still looking good: Backwardation, inelastic supply, demand bode well for silver" in Marketwatch.com.
Be careful out there!
Full disclosure: long PAAS, GG