Rallies in solar stocks would be more exciting if they were not so fleeting. In early September, I noted a "stealth rally" was underway in solar stocks. In early October, I wrote breathlessly about a "soaring September" for solar stocks. Just three weeks later I had to warn that selling volume was picking up in solar stocks. Another three weeks later and after a deluge of solar-related earnings reports, solar stocks are reeling. Several stocks have already given up those heady gains from September. It is natural for stocks that have experienced such strong appreciation to get hit particularly hard when the overall market sells off. However, since earnings reports have generally come in strong again for solar stocks, this pullback should be a great opportunity to participate in future gains whenever the market regains its balance.
I have written about the recent earnings reports for First Solar (FSLR), Jinko Solar (JKS), Evergreen Solar (ESLR), and ReneSola (SOL). I felt compelled to temper my excitement over strong reports from FSLR, JKS, and SOL by noting that I am a buyer on dips. Not only was the general market at very overbought levels, but also October's selling pressure on solar stocks required a cautious approach. Indeed, the dips in solar stocks have turned into near deluges over the past week.
Three stocks, Solarfun Power Holdings Co Ltd (SOLF), Trina Solar Ltd. (TSL), and Yingli Green Energy Hlds Co (YGE), are all back to price levels they each last visited in August. SOLF and TSL first lost their September gains in mid-October. First Solar is only a 1.5% loss away from erasing all its September gains. High-flying stocks like JKS and SOL are 30% and 36% off their recent peaks. In this kind of marketplace, it is easy to forget about the bullish pronouncements from the management of these companies!
I have chosen to stick to my strategy and have started scaling into positions during this sell-off. I am now on my second of three tranches for FSLR and JKS. I just bought my first tranche (of two) for SOL. (Many trades documented on twitter with the #120trade hashtag.) I am not adding any more shares in ESLR, the most speculative of the bunch. I have also reviewed last week's earnings for SOLF and GT Solar (SOLR), and I have decided to build a position in SOLR starting tomorrow assuming the current technical set-up holds firm (see below). Write-ups on SOLF and SOLR are coming in the next few days along with the other companies who reported last week.
In general, the reports from solar companies have been bullish. Companies are looking beyond the coming slowdown in Germany with diversification plans that are projected to keep business moving in stride. (SOLF is a slight exception in that it seems a majority of its business will remain in Germany). Demand is strong and backlogs confirm solid ordering patterns into the first half of 2011. Production capacities up and down the supply chain are ramping to meet this demand, polysilicon supplies are tight, costs continue declining, ASPs are holding up or softening ever so slightly, and outlooks for both demand and capacity build-outs are extremely bullish for the next several years. I expect the remaining reports from solar companies to repeat these bullish messages. It is almost too good to believe! Analysts have been generally receptive, but the stock market's collective reaction reveals a tentativeness likely directed at the sustainability of 2011 outlooks and the haziness surrounding second half 2011 prospects. I eagerly await FSLR's December 14th discussion on 2011 guidance for some kind of a sanity check.
In the backdrop are low valuations for many solar companies on a price-to-book, price-to-sales, and/or forward P/E basis. Shorts are also very active in this sector with high-flying companies like JKS attracting ever-increasing short interest. Taken together, technicals, valuations, strong business results, and active shorts make for quite a volatile mix.
I end with some charts to describe the technical carnage, and promise, in some of these stocks.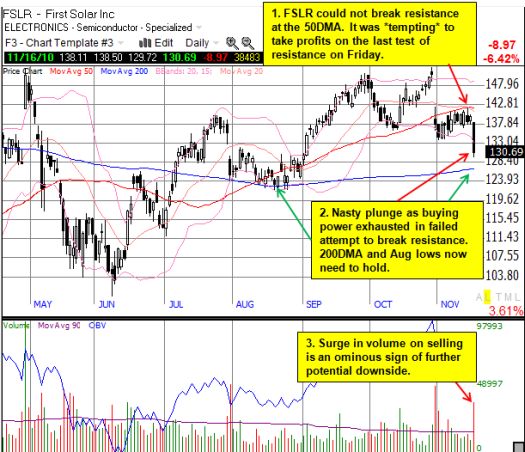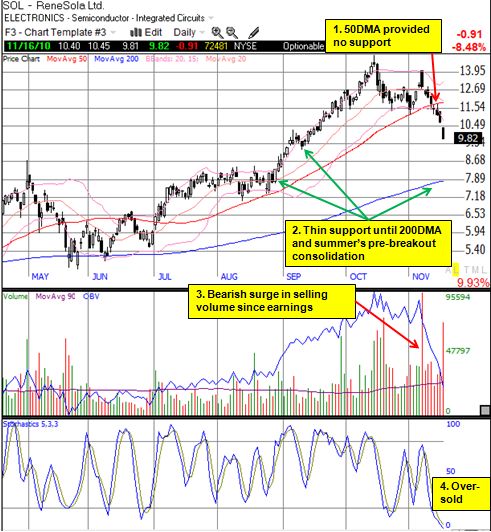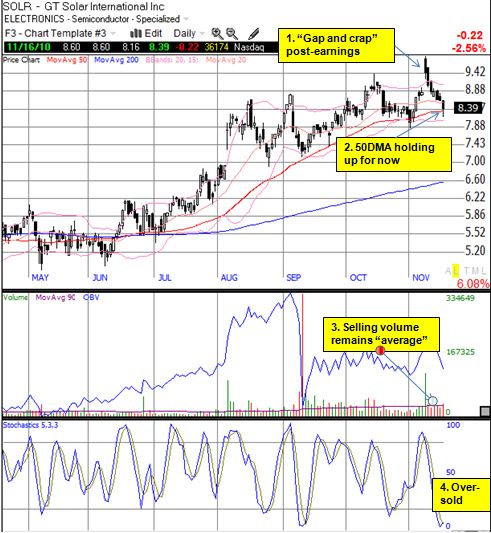 *All charts created using TeleChart:

Be careful out there!
Full disclosure: long FSLR, JKS, SOL, and ESLR