I wrote earlier about a "stealth" rally in solar stocks featuring ReneSola (SOL), Solarfun Power Holdings Co Ltd (SOLF), LDK Solar Co Ltd (LDK), Trina Solar Ltd (TSL), and First Solar (FSLR). In all the excitement, I managed to neglected (at least?) two other stocks publicly traded in the U.S. that are in the green year-to-date: GT Solar International (SOLR) and Ja Solar Holdings (JASO).
GT Solar International (SOLR)
SOLR dropped 12% yesterday on news of "…concurrent offerings by [a] selling stockholder." Despite the one-day loss and its inability to break through the highs from 2009, SOLR is up 40% year-to-date. This is a dramatic turn-around from a disastrous IPO in the summer of 2008. SOLR traded down right out of the gate and barely stopped for a breath of fresh air before plummeting under $2 to its all-time lows four months later.
Like most of the solar winners this year, SOLR increased guidance during its last earnings report (August 5). SOLR blew by expectations with earnings per share (EPS) guidance for fiscal year (FY) 2001 of $0.90-1.00 versus $0.64 analyst consensus. Revenue guidance for this FY11 increased to $700-775 million versus the $598 consensus.
SOLR's forward P/E of 9 makes it relatively cheap (again, like most of this year's solar winners). The company has no debt and $276 million in cash in the bank. However, the price-to-book (P/B) and price-to-sales (P/S) are not at bargain levels, 2.2 and 6.4 respectively. A break to new highs would be very bullish for SOLR, but such an event will likely take a good amount of time given the fresh overhead resistance created by the secondary offering.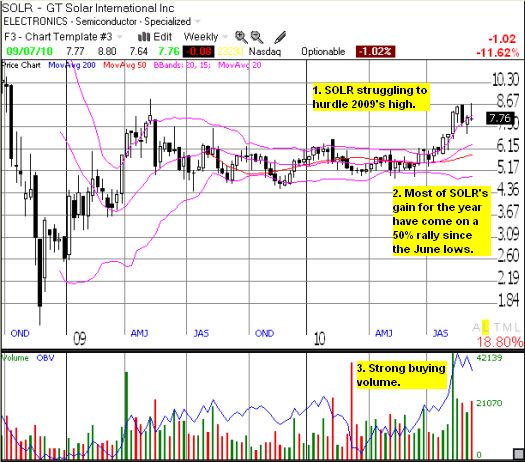 Ja Solar Holdings (JASO)
Just yesterday, JASO staked out its claim to the title of world's largest pure play manufacturer of solar cells at the 25th European Photovoltaic Solar Energy Conference and Exhibition (EUPVSEC). At this company-sponsored conference, JASO repeated its bullish commentary from its earnings announcement on August 10th. JASO reported record shipments and raised shipment guidance:
"Based on strong customer orders and increasing visibility, we are raising our full year 2010 shipment guidance from 1GW to 1.35GW. We are also seeing strong order visibility for 2011, with customers already placing orders and requesting volume commitments. While we expect to see continued strong demand from major European countries, many emerging new geographies, including China, India, U.S., Canada and other regions, represent significant growth opportunities for the industry."
JASO managed to gain 30% in 2009, and year-to-date it is up another 14%. This performance alone makes it a survivor in the solar space. However, the stock has been unable to break the high set early in January and challenged in May and again last month. A break above this resistance will be very bullish and mark a continuation of an uptrend that started with the recovery from the November, 2008 lows. At a low valuation with a forward P/E of 7.0, P/S of 1.0, and P/B of 1.3, JASO appears to be a good bet to break through resistance sooner than later.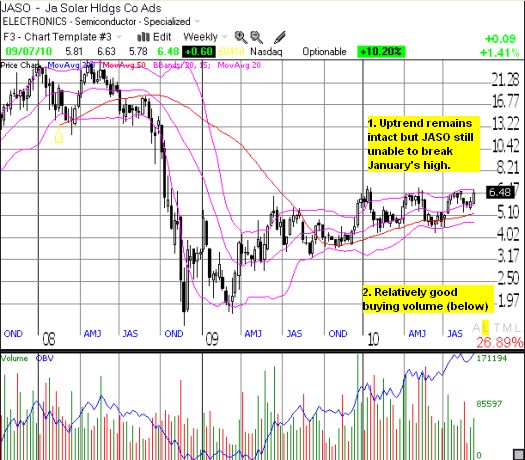 *All charts created using TeleChart:

Be careful out there!
Full disclosure: no positions