I have often wondered whether Germany's initial reticence to help the Eurozone solve its debt problems was "engineered", in part, to devalue the euro from its suffocating highs in 2009. We will likely never know for sure, but the euro's remarkable slide in 2010 has apparently generated impressive economic results, especially in Germany. There is no surer evidence that many continue to welcome competitive devaluation when they gush over the profits accrued from a weaker currency.
In "Euro Strength Damps Break-Up Talk as German Jobs Make Trichet See Recovery", Bloomberg quotes executives and representatives from several German companies who describe the benefits of a weaker euro:
"Executives from Bayerische Motoren Werke AG, Volkswagen AG's Audi unit and Siemens AG credit the currency's decline from its 16-month high of $1.5144 in November for boosting competitiveness and making revenue earned overseas worth more when they bring it home." (See article for specific examples)
As a result, the German industrial machine seems to be getting healthier at an impressive clip:
"German industrial production increased 2.6 percent in May, more than twice the pace economists had estimated, according to figures the Economy Ministry in Berlin released on July 8. The median estimate in a Bloomberg News survey was for a 0.9 percent gain. The measure of factory output climbed 12.4 percent from a year earlier when adjusted for the number of work days."
The article also cites small economic gains in Italy, Spain, and Ireland, but it is not at all clear whether these gains are simply coincident with the euro's weakness or a result of it.
Gains from currency valuation tend to be a zero-sum game, at least in the short-term, so I am compelled to wonder aloud whether Europe's recent happy gains have come at the expense of the U.S. – especially given the series of poorer than expected (or wanted) economic data the U.S. has registered over the past month or so.
The irony of course is that the euro has stabilized over this period and has looked much stronger than the U.S. dollar. BMW and Audi are jumping at the chance to lock in the current rates:
"The dollar's strength also offers manufacturers the chance to lock in currency hedges that will protect export revenue for years to come, according to BWM and Audi executives.

'A euro that's not overvalued helps our export business,' BMW Chief Financial Officer Friedrich Eichiner said in an interview last week. 'We're using the present situation to set up hedging positions for 2011 and 2012.'"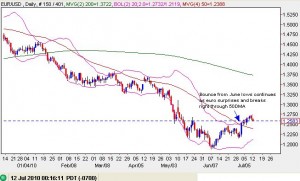 Source: dailyfx.com charts. Click for a larger view.
(Click here for a technical analysis of the dollar index: "Is it time for a dollar index rally?" – the bounce from 2009 lows has now reached a critical juncture.)
Be careful out there!
Full disclosure: short EUR/USD, long SI puts