IMAX sold off almost 10% the day after heavy bullish trading on the stock's options. This setback proved temporary as IMAX immediately turned around and set fresh 10-year highs on Monday. The chart below shows the recent action: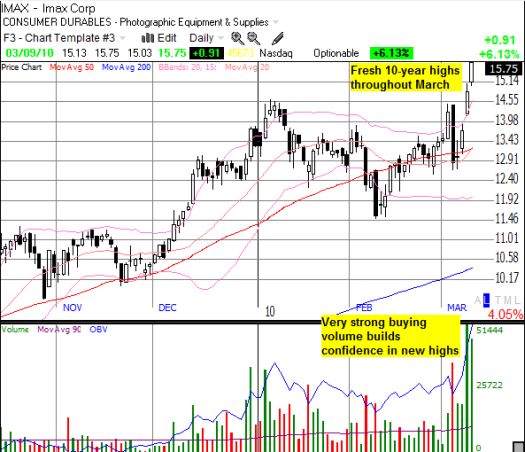 *Chart created using TeleChart:

The payoff on the calls has been tremendous so far. The March 15 calls have doubled in one week. The open interest on these calls has also steadily increased over this time.

*Source: ETrade. (Ignore the last bar of open interest. Closing open interest is updated the following morning.)

Given IMAX's momentum and huge short interest (20% of float), I will not be surprised to see these calls go much higher. However, earnings are coming Thursday morning and provide a catalyst for a huge move (whether up or down) given the heavy trading activity and news flow.
Brigatine Advisors has been bullish on IMAX and called last week's sell-off a buying opportunity. Piper Jaffray followed with its own defense of IMAX, reiterating an "overweight" rating, raising estimates, and setting a $16 price target. IMAX essentially hit that target today.
Be careful out there!
Full disclosure: no positions