Every now and then, high options volume does precede unique stock activity (my own analysis concluded that high options volume is at best a signal to trade with the prevailing trend). Yesterday, Coventry Health (CVH) (a managed healthcare company) succumbed to heavy selling pressure and dropped 7% one day after briefing.com reported unusual options activity in the Sept 25 put just as the stock was making fresh highs for 2009. The puts traded 5150 contracts versus an open interest of 280. Implied volatility spiked from 44% to 64%. The trading activity is all the more noteworthy given that these puts expire at the end of this week. Downside volume on the stock was the heaviest since the March lows.
On Tuesday, the Sept 25 puts closed with a 70% gain, open interest of 4019, and additional volume of 2039 contracts. This means that traders are expecting even further declines before the week ends. Trading volume also picked up on the Sept 22.5 puts. I will be watching CVH closely. Even if the stock "only" falls to support at the 50-day moving average (around $21.60), these puts will print impressive gains. Also note that briefing.com picked up unusual activity in the Sept 40 puts for Humana (HUM).
(10:15am update – Dow Jones reporting that Goldman Sachs downgraded CVH to a sell today. You think someone knew ahead of time? Naaah!)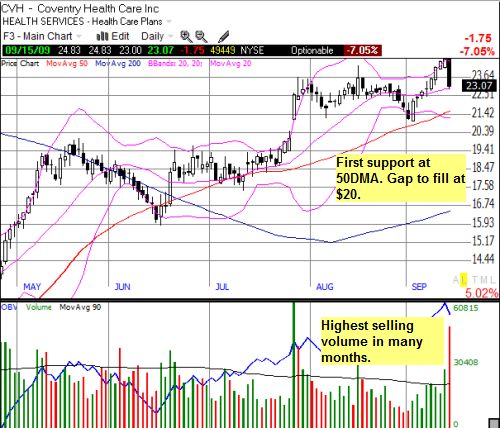 *Chart created using TeleChart:

Be careful out there!
Full disclosure: no positions