Caterpillar, Inc. (CAT) closed out Tuesday's trading with an impressive 6% gain on volume 58% higher than average.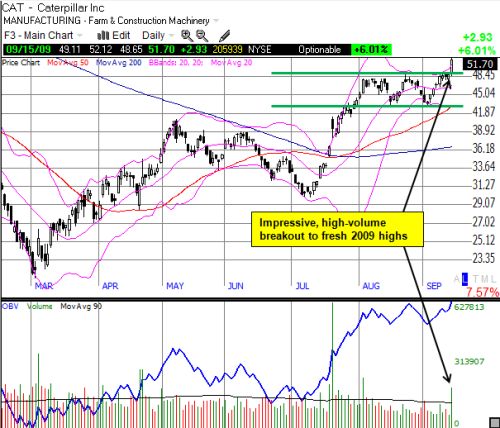 *Chart created using TeleChart:

For six weeks, CAT bounced inside a small trading channel as it consolidated impressive gains from the July lows and July's earnings report. CAT is plowing ahead despite lingering and extremely high skeptical sentiment (a large number of bearish analysts and a very high put/call ratio). This kind of technical breakout against pervasive bearish sentiment typically signals even higher prices to come. It also suggests that the bulls are still far from finished in stuffing more and more money into the stock market. CAT is a very liquid, big cap stock that is a member of the Dow Jones Industrial Average, and it is commonly used as a proxy indicator for the health of the global economy given its reach across industrial markets around the planet. It is also notable that CAT's strength came on a day when fears of a trade war between China and the U.S. were screaming across media headlines.
While I took my medicine on CAT shortly after July's earnings and switched to bullish short-term trades, I sold my latest holdings of calls into Tuesday's surge. The flip side of all this giddy price action that anticipates the rosiest of economic outcomes is that it serves to anesthetize market participants to the looming risks from on-going structural problems in the economy. Sure, the market likes to climb a wall of worry – but that smug saying only works when the market is indeed going up in response to worries (I think Yogi Berra would say something like that!).
I believe the higher we go from here, the more dangerous this market becomes. For months, sell-offs have been relatively shallow, and there has been almost a "drone-like" and automatic quality to the buying in the market. Buying every small dip has been the fashion particularly since the July lows. As more and more skeptics cash in their chips and stop buying, the more likely it is that we will wake up one morning this Fall to a major gap down. Perhaps the "good news" is that almost everyone who has been tucking away cash will likely rush right back into the market on a significant sell-off.
In the meantime, the continued full-court press in the market is challenging my expectation for a relief rally in the dollar. The dollar will continue to lose even as our stock market wins given its apparent new role as a carry trade currency. Silver hit another 2009 high on Tuesday, and even gold looks set up for another push above $1000. All the market needs now is for Goldman Sachs to issue another upward revision to its year-end target on the S&P 500. In late July, the S&P 500 regained the 940 level, and Goldman raised its target from 940 to 1060. The stock market promptly went higher and has not looked back. It is now "pennies" away from the current target…
Be careful out there!
Full disclosure: long SSO puts, GLD