The dollar's inexorable descent continued Tuesday as the index hit fresh 11-month lows after consolidating for 4 weeks.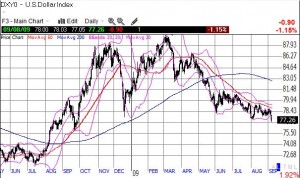 Accompanying the most recent weakening in the dollar has been a surge in gold and silver. Gold touched $1000/ounce and silver is now up about 44% for the year. Barrick Gold (ABX) has FINALLY eliminated its gold hedges in anticipation of further appreciation in the metal. At the same time, the Euro and the Australian dollar are making fresh 10 and 13-month highs respectively against the dollar. The United Nations Conference on Trade and Development (UNCTAD) piled on in its just released annual report by recommending "a new international reserve system that does not use a national currency as a reserve asset." (Yes, that means no more king U.S. dollar).
This all seems like a recipe for a straight line back to the September, 2008 lows and fresh multi-year lows, except the Yen has also been surprisingly strong, especially against the dollar.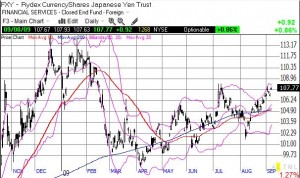 Typically, the Yen's rise has occurred in parallel or ahead of some kind of weakness in the stock market. I might speculate that traders are calling in their Yen and using the dollar for borrowing funds for executing carry trades, except that I continue to read claims that the Yen carry trade remains alive and well for now. So, I am frankly at a bit of a loss, but since I am inclined to believe that the S&P 500 has topped out for now, the Yen's steady rise confirms my bias. And if the stock market reverses, the dollar should bounce – at least this has been the pattern of oscillation between risk-seeking and shelter-seeking.
A relief rally in the dollar would come just as shorts are ramping up bets against the dollar. Pressing such bets now gets more and more precarious. I have sold all my silver (SLV) for now, am keeping some gold (GLD), and have closed out currency bets against the dollar (in fact, I am looking to focus on shorting the Pound, especially if the Bank of England implements negative interest rates).
Needless to say, I will be watching closely how the currency/commodity trades unfold in the coming days and weeks.
Be careful out there!
Full disclosure: long GLD, long SSO puts