Dancing With the Stars Review: Kim Fields Does the Cha Cha (Season 22, Episode 1)
Dancing With the Stars, Season #22, started off right featuring Kim Fields and Sasha Farber, Australian Latin champion, as the lead dancers. What else but an old clip from The Facts of Life was used as the intro scene for Kim. Her character Tootie Ramsey is shown on roller skates holding a door open, asking her friends to come see a pig loose on the bus.
The scene next cuts to Kim introducing herself as an actress, but we KNOW she is so much more! She gave her credits as the bookends of her career to-date: The Facts of Life and The Real Housewives of Atlanta.
Next, Sasha visits Kim at home. This is Sasha's second season and he said he is "excited to be back." Sasha's first question to Kim: "Do you have any acrobatic experience?" We all know the answer to that…"Hell no!" Kim exclaimed.
In the next scene, the pair practiced some introductory steps. Kim said her thighs were saying "Excuse me. Pardon me. Excuse me. Pardon me!" as they practiced some steps in place. Nothing like some self-deprecating humor to warm things up.
The dancing couple got a bit edgy when Sasha asked for Kim's language expertise to describe the groin area where the hands need to sit during one move. Kim helped him out by calling it "the treasure." In another scene, Sasha leaned Kim back to finish off a move and then buried his head into Kim's chest! I guess Sasha just could not help himself. Hmmmm…I wonder what husband Christopher Morgan had to say about that!
Through all the practice, Kim learned that the Cha Cha is completely different than the groove she does at weddings. In answer to the "best case scenario for week 1," Kim cackled as she said "not to hurt nothin'!"
At the beginning of the dance routine, Kim took a deep breath right before she started…as if to give a sigh of relief that all her practice was about to pay off. Kim clearly focused a lot on facial expressions as the true actress in her was on display. She was there to put on a show! Interestingly, Kim stuck out her tongue a LOT during the routine, including sticking through the finish. At least the judges chose not to comment. Overall, I thought Kim and Sash executed an entertaining routine even if Kim was not quite as fluid as I had hoped. Go Kim!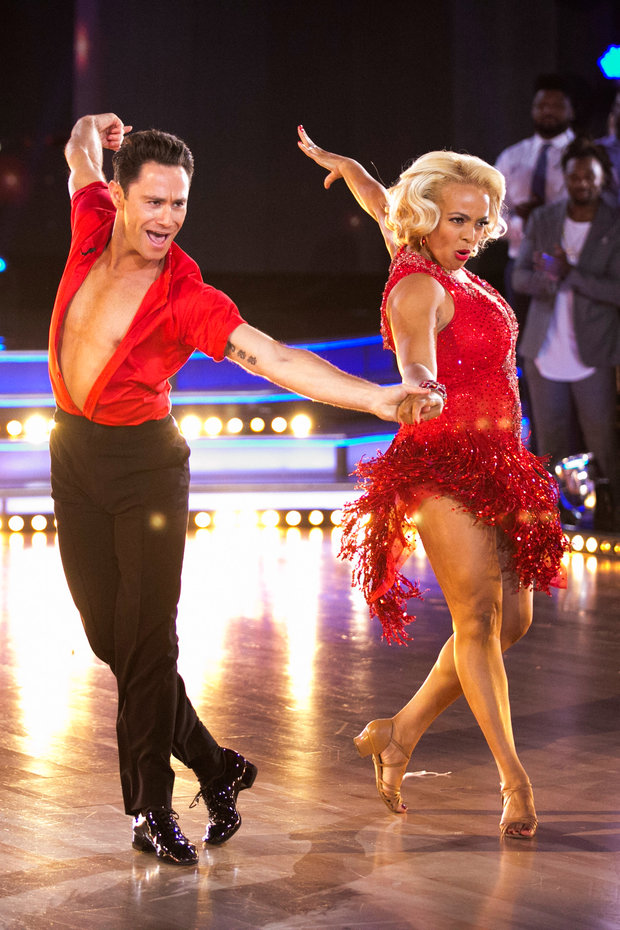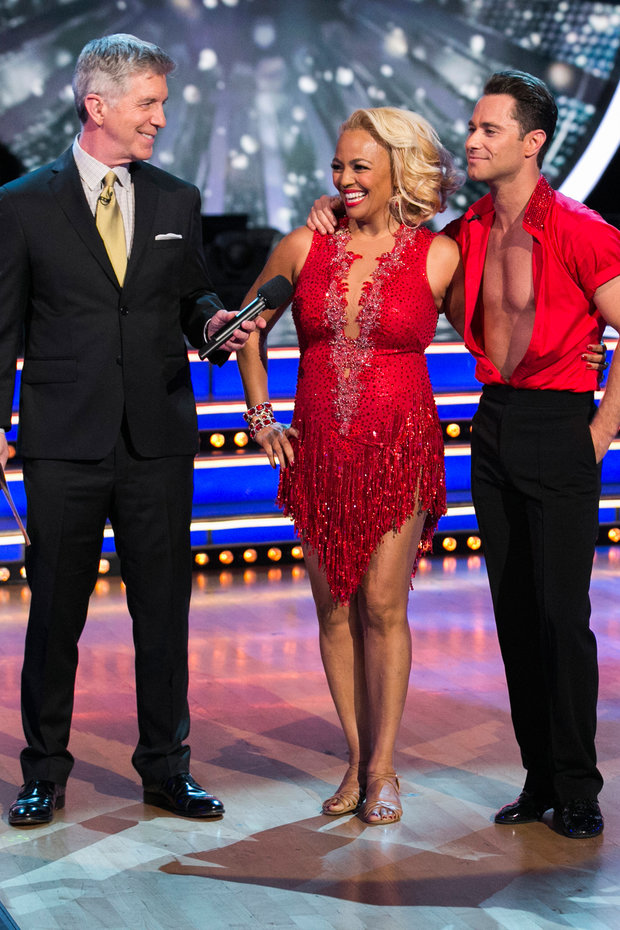 Source: BravoTV
The judges were kind overall and seemed to appreciate Kim's effort and skills.
Judge Len Goodman
Len liked Kim's routine but not all of it. He said "well done" and indicated the routine was a great start to the show. He liked the timing which I thought got better as the dance progressed. Len thought Kim was crisp and sharp. Len asked Kim to get more pressure through her feet and to work her hips a little more. Kim gave Len a very funny expression like she was both surprised and appreciative of the feedback at the same time. Score: 6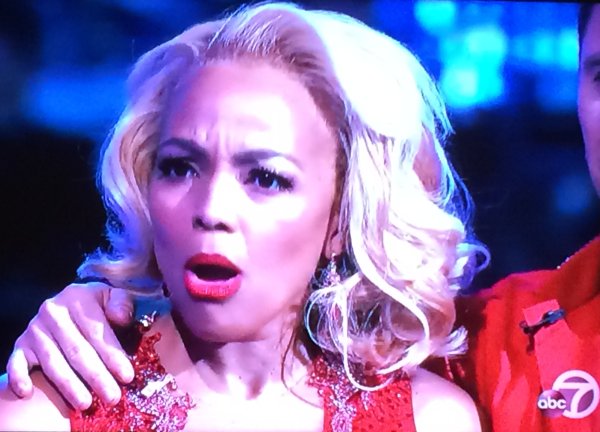 Judge Bruno Tonioli
Bruno was his typical saucy self. He told Kim she can blow his socks and his whistle anytime she wants. I was thinking, "Huh?!?! Where did THAT come from?!?!" But then again, that is just Bruno. For emphasis, Bruno leaped out his chair and declared he loved the way Kim let her hair down. Bruno liked the way Kim started with a lot of energy. He added to Len's observation on the hips: the correct hip action comes from the foot placement. I did notice a few somewhat tentative foot placements. Bruno also noticed that Kim tended to tense her shoulders when she got excited. Overall, he loved the dance. Score: 7
Judge Carrie Ann Inaba
Carrie Ann started off excitedly as she described a "whole lot of fierceness in a little tiny package." Kim's "incredible charisma" came out from the beginning like a firecracker. As I noted earlier, I think Kim put a lot of her acting talent into display. Having said all that, Carrie cautioned Kim not to rush. For example, there was a moment when Kim started to get just a little ahead of the music. Carrie Ann finished with a flare by dropping her pen and cautiously reaching for it (on a previous season, Carrie Ann tumbled out of her chair while reaching for a pen on the floor). Score: 7
In the post-dance interview, Kim said she felt fantastic and (once again) gave all the credit to Sasha. She screamed in utter and genuine delight once she saw her scores: 20 out of 30 is not too bad. It was right in line with the scores of other stars who did not come to the show with previous dancing experience but came with some natural dancing talent and rhythm. I do not think this season has any "shoe-in" winners or naturals, so I think Kim could go far if we fans stand by her! Len's 6 made sense because he was not nearly as excited about Kim's routine as Bruno and Carrie Ann were.
So, here is YOUR chance to give your own vote for Kim. It is too late to send in your vote to the show, but you can rate her here in THIS poll.
The polling will stay open until Sunday, March 27, 2016, right before midnight.

[poll id="2″]

You can watch the clip of Kim and Sasha doing the first dance at the ABC.com site by clicking here.
In the future, you can vote for Kim in THREE ways…
Call: 1-800-868-3406 AND go online at ABC.com (account required) AND Facebook. Need help? Read the FAQ.
Kim gave a celebratory shout-out after her dance. She is already looking forward to the next routine…the Salsa!
WOOOOOOOOO!!! @SashaFarber #DWTS #TeamKimsha @DancingABC pic.twitter.com/ayJ9s6SkaV

— Kim Fields (@KimVFields) March 22, 2016