Nielsen NV (NLSN) crashed to new all-time lows at the same time Facebook (FB) ran into its own historic post-earnings buzzsaw. At the time, I noted NLSN's bad news about the business of monetizing user data was seemingly overshadowed by Facebook's woes. NLSN's operational difficulties seemed to warn investors to brace for more weakness ahead. With the stock on the edge of setting fresh all-time lows, Elliot Management decided it will not just stand by and watch this stock wilt away.
In an SEC filing Schedule 13D, Elliott declared its interest in participating in a turn-around effort for NLSN. Elliot described the company as "undervalued" and presenting "an  attractive  investment  opportunity." Given this assessment, Elliott will try to engage with NLSN to recover value in the business:
"The Reporting Persons will seek to engage in a dialogue with the Issuer's Board of Directors  (the  "Board")  and/or  management  about numerous  operational and strategic opportunities  to maximize shareholder value. The Reporting Persons will encourage the Issuer to undertake a full strategic review of, and initiate a process to explore, the sale of the Issuer in full in addition to the exploration of the sale of certain of the Issuer's businesses or assets, including transactions in which the Reporting Persons may seek to participate and potentially
engage in, as a purchaser or investor."
Elliott collectively owns 5.1% of NLSN's outstanding shares and holds a "combined economic exposure" in NLSN to the tune of 8.4% of outstanding shares. As such I am taking Elliott's announcement as a high-potential indicator of a discounted investment opportunity. At the time of writing, NLSN was as high as 16.8% and currently trading at a 10.0% gain. I took advantage of the fade to jump into a long-term call option (LEAP) expiring in January 2020 at a $28 strike. I plan to accumulate these calls (or other calls or shares) if the market provides further discounts.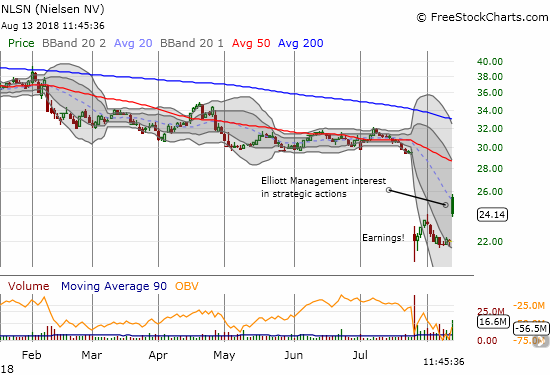 Another reason why the NLSN trade/investment intrigues me is the case of Acxiom (ACXM), another company in the business of making money off the data of users and consumers (ACXM sells data). Back in March, the stock was slammed after Facebook announced tightened data-sharing rules that negatively impacted its partnership with ACXM. ACXM stuck to its 2018 guidance but warned of a $25M revenue impact for 2019. The stock quickly recovered from there and barely looked back. A deal to sell Acxiom Marketing Solutions to Interpublic Group (IPG) for $2.3B in cash solidified the new bullish tone. If Elliot starts working deals like this one, NLSN should rally as much as ACXM has.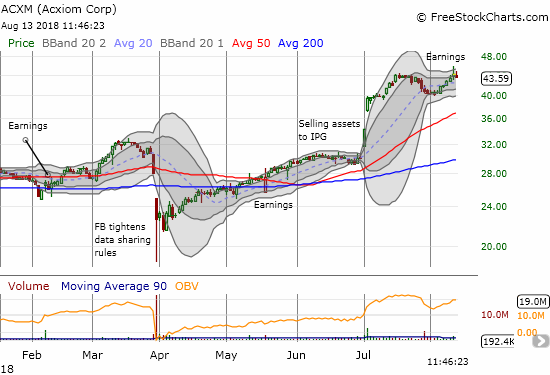 Source for charts: FreeStockCharts.com
Be careful out there!
Full disclosure: long NLSN call option