Five months ago, I made the case for bottom-fishing in DexCom (DXCM) following the news of competitor's Abbott (ABT) product approval. The trade was looking shaky a few weeks later when the stock made a minor new closing low from that price collapse. November earnings produced the catalyst to confirm the bottom, and the stock was off to the races for a little over a month.
Soon after the stock started drifting downward, an analyst downgraded the stock to underperform. The selling was enough to create a breakdown below 50-day moving average (DMA) support. I stopped out my position to preserve my remaining profit – concerned that the market's response validated the analyst action. DXCM never traded lower even after cutting revenue guidance a few days later. After two months of additional consolidation, DXCM broke out today.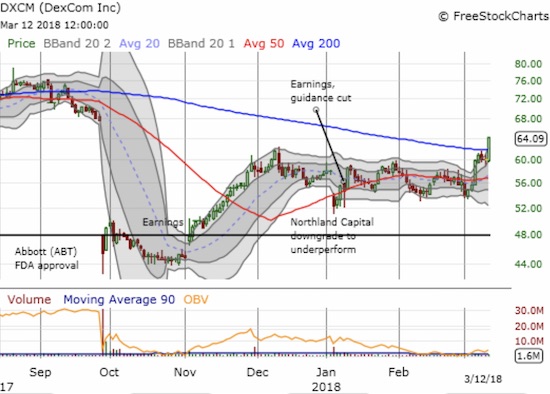 Source: FreeStockCharts.com
While the volume did not surge on the breakout, the move still looks bullish given the context: an on-going push to fill September's massive gap down and the contrary buying pressure in the wake of a bearish downgrade and a somewhat disappointing earnings report. On Tuesday, DXCM will appear at the Barclays Global Healthcare Conference. I assume that investors are anticipating very good news.
I received a reminder of a very simple lesson: the power of the confirmation…or the lack thereof. In this trade, I was too eager to preserve my profits ahead of confirming a breakdown. A confirmation would have been a lower close. I should have used my profit to buffer against the emotional urge to react with the crowd. Moreover, the stock was over-extended below its lower-Bollinger Band (BB) and thus over-stretched; the hurdle was high for the stampede to continue exiting the stock!
Note well…DXCM's breakout needs its own confirmation: a higher close.
Be careful out there!
Full disclosure: no positions