Getting a second opportunity at a great set-up is rare in the stock market, but U.S. Concrete (USCR) may be offering just such a second chance.
On September 3rd, I lamented missing an opportunity to buy USCR when it neatly tested support at the top of its last trading range. The headline reason for the surge that confirmed support was a strong revision in the Q2 U.S. GDP report that showed much larger growth for non-residential fixed investment. In my related post, I scrutinized the GDP driver relative to U.S. Concrete and was left unconvinced. The stock market seems to agree as it completed a reversal of the post-GDP surge.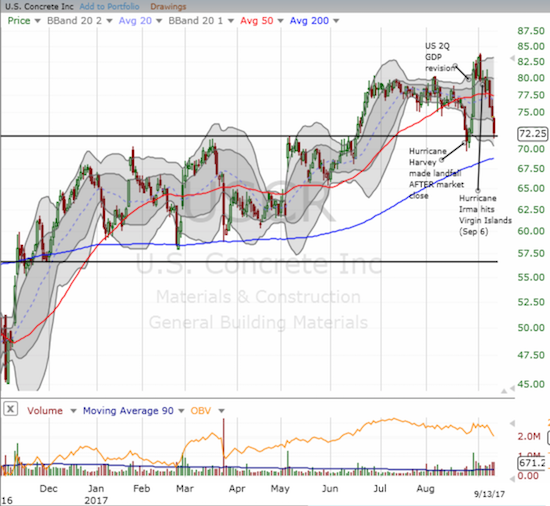 I checked USCR's behavior against the other infrastructure stocks pegged for post-GDP rallying: Vulcan Materials (VMC), Martin Marietta Materials (MLM), Summit Materials Inc (SUM), and Eagle Materials (EXP). VMC and MLM completed their own reversals on Wednesday and seemingly confirmed that GDP effect was misunderstood by traders. Yet, SUM and EXP are still holding on to the majority of their gains. EXP looks particularly interesting because the post-GDP rally led to a breakout above resistance at its 200-day moving average (DMA). That breakout was quickly confirmed.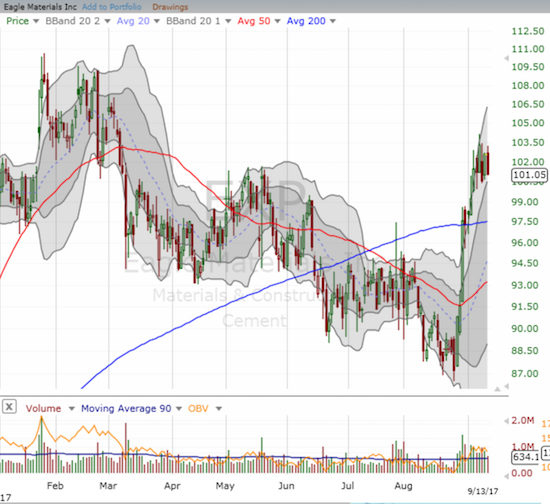 Source: FreeStockCharts.com
EXP has a very diversified market as it serves segments across cement, concrete and aggregates, gypsum wallboard, recycled paperboard, and oil and gas proppants. So the reason for EXP's resilience may go beyond infrastructure; the persisting rally may even have roots in expectations for hurricane recovery. I will be keeping a closer watch on EXP in coming weeks and into its next earnings report on or around October 24th.
USCR's gyrations are also loosely correlated with hurricanes Harvey and Irma. USCR has small operations in both impacted areas: Houston and the U.S. Virgin Islands. I have not seen any word or press release from the company providing a damage assessment. The U.S. Virgin Islands is of particular concern given descriptions of complete destruction (from CNBC):
"Hurricane Irma, one of the most powerful Atlantic storms in a century, tore its away across the U.S. Virgin Islands as a Category 5 storm on Sept. 6, mixing together a deadly combination of winds and rising water.

Government officials and local residents alike are reporting the damage as catastrophic, and saying it will be months before the islands are able to recover.

'The infrastructure is destroyed,…The roads are impassable, the power grid is completely gone, and there is a lot of looting and robbing…It's just rubble in most of the areas … it almost looks like a bomb had exploded in the area…' rebuilding the islands will start 'from scratch.'"
With these kinds of descriptions it is hard to imagine that USCR escaped unscathed in the U.S. Virgin Islands. Still, the revenues there represent a small fraction of USCR's overall business. So, I do not want to let this second test of support pass by me. The next milestone from here would be a test of uptrending support from the 200DMA around $69. A breach of that support would indicate to me the possibility that there is yet more to the story to explain the recent wild gyrations in the stock.
US Virgin Islands governor: Federal aid is here but we need more help from CNBC.
Be careful out there!
Full disclosure: no positions