The latest CFTC data on the Commitments of Traders (CoT) showed some key trends continuing: new heights of bullishness on the Australian dollar (FXA) and the Canadian dollar (FXC), and on-going depths of bearishness for the Japanese yen (FXY).
Speculators increased net longs on the Australian dollar for the 8th week in a row. Speculators have not been this bullish on the Australian dollar since April 8, 2013.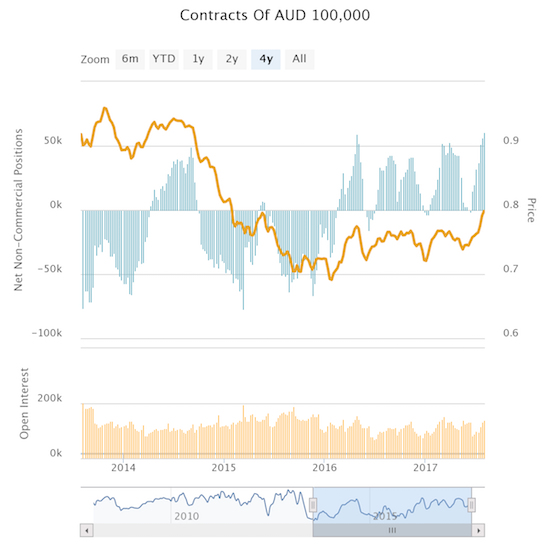 Source: CFTC's Commitments of Traders
Not surprisingly, this bullishness has coincided with a strong and sometimes strengthening Australian dollar. This stubborn tide finally convinced me to drop my bearishness bias on the Australian dollar a month ago. The growing strength of the Australian dollar likely concerned Guy Debelle, Deputy Governor of the Reserve Bank of Australia, enough to issue his clarification that the RBA had no intention of hiking rates anytime soon. The Aussie faded in the immediate wake of that news. While the currency was able to mount one more rally after that, it was short-lived. I continue to take an opportunistic approach to trading the Australian dollar.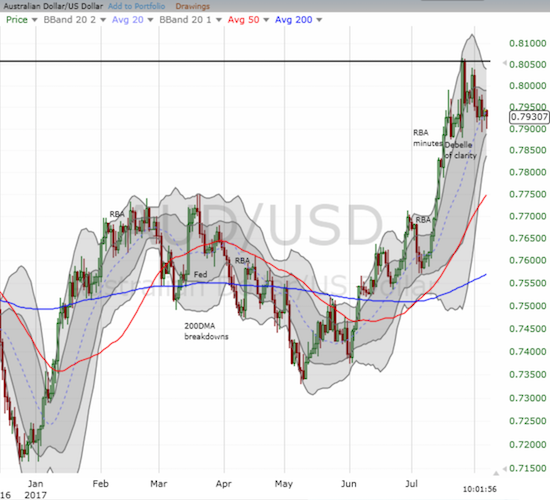 Source: FreeStockCharts.com
Speculators in the Canadian dollar went net bullish three weeks ago to complete a remarkable shift in sentiment…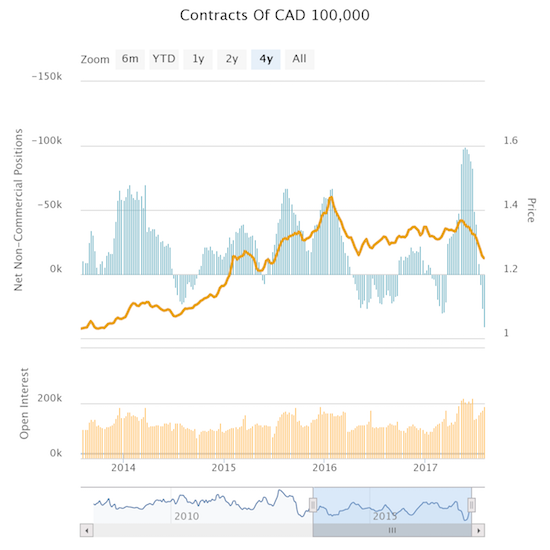 Source: CFTC's Commitments of Traders
While bottoming oil prices helped stemmed the losses on the Canadian dollar, monetary policy has been the more salient driver. For almost two weeks the U.S. dollar index (DXY0) has finally mustered some momentum against the Canadian dollar. I see this move as offering a very ripe fading opportunity.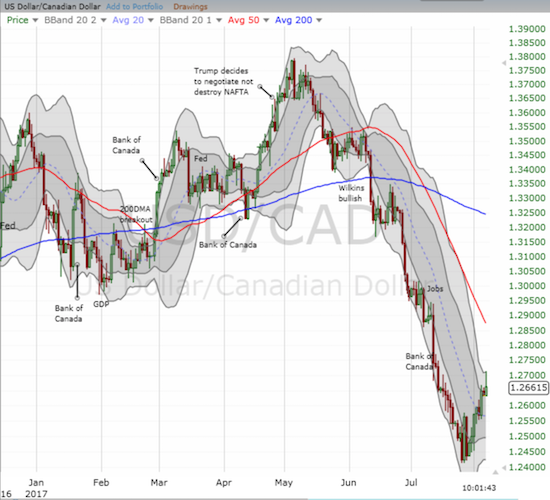 Source: FreeStockCharts.com
The bears have dominated trading in the Japanese yen (FXY) for all of 2017. This negative sentiment accelerated over the last four weeks as it became clear that the Bank of Japan (BoJ) is determined to fall further behind its contemporaries in tightening monetary policy.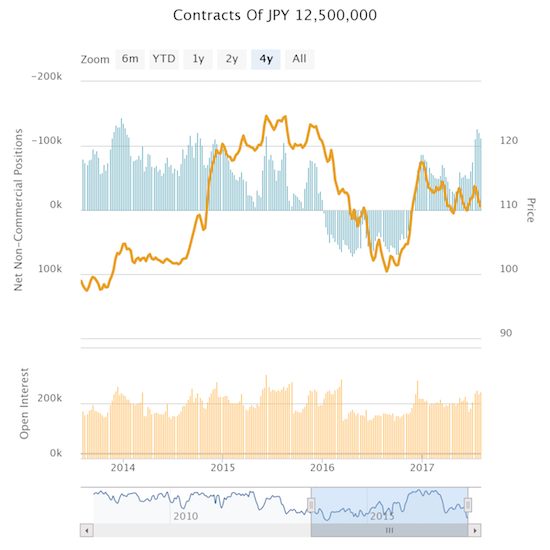 Source: CFTC's Commitments of Traders
I strongly suspect that negative sentiment is finally running its course. The weakness in the Japanese yen provides an opportunity to get a cheaper price on a hedge against a sudden appearance of risk aversion. August through October is the season of the year when such a hedge is particularly important. I recently became most interested in shorting the Swiss franc (FXF) against the Japanese yen. The yield on the franc is even lower than the yen and traders are finally selling the franc given the Swiss National Bank (SNB) is just as determined as the BoJ to fall behind. It will be interesting to see whether the franc or the yen wins the race for panic in any coming periods of risk aversion. I am also long the yen against the pound and the Australian dollar to make sure I have broad coverage. USD/JPY overs a small counter-hedge.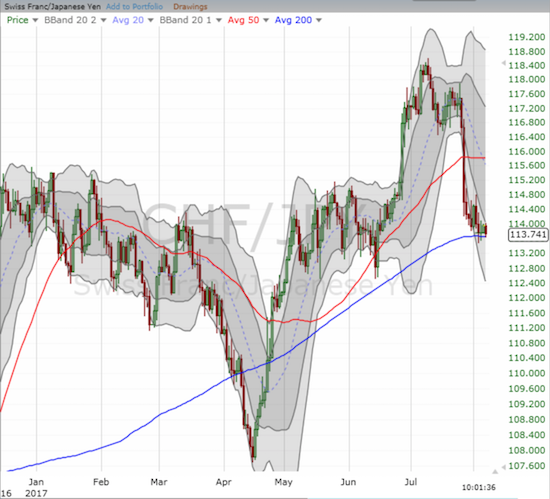 Source: FreeStockCharts.com
Be careful out there!
Full disclosure: long and short pairs against the Australian dollar, long the Canadian dollar, net long the Japanese yen