A little over three months ago, I complained that AT&T (T) had greatly increased the cost of cutting the cord. At the time, AT&T delivered a notice to customers informing them of caps on internet usage. Customers exceeding caps for their respective plans would pay an overage fee:
"Beginning on May 23, 2016, we will be increasing the U-verse® Internet data allowance for many customers. After a grace period, and as our agreement provides, there's a $10 charge for each 50GB of data you use over the allowance amount. The maximum overage charge will be $100/mo. If you choose to bundle your U-verse Internet with DIRECTV® or U-verse TV you will be provided an unlimited Internet data allowance with a $30 value at no additional charge, as a benefit of bundling. Or if you choose, an unlimited allowance is available for purchase as an optional bolt-on to your Internet service for an additional $30/mo."
I was caught off guard because I was not even aware of ANY limit. After making some phone calls to customer service, I was relieved to find out that my plan provides a cap of 600GB – well above my family's current usage. Today, I am even more happy to find out that cap has gone up to a whopping 1TB.
AT&T became a lot more generous on August 3, 2016 with the following announcement:
"We have some good news: The monthly Internet data allowances for many U-verse® customers will be increasing soon!

U-verse High Speed Internet customers on plans with speed tiers up to and including 75 Mbps that are not bundled with either DIRECTV® or U-verse TV will now have a 1 terabyte (TB) data allowance as of August 21, 2016.

As a reminder, after an initial grace period, we'll automatically provide you with additional data at $10 per 50GB if you go over your data allowance. (The maximum overage charge will still be $100 per month, per account.)

The majority of our customers' data usage will be well within 1TB each month. So if you previously purchased the unlimited Internet data option separately for $30 per month, we'll automatically remove it from your account by August 31, and credit you for the past charges. You should see the credit on your bill within one to two bill cycles after that date.

If you'd like to have unlimited data, you can still choose to purchase an unlimited Internet data option separately for $30 per month per account, after August 31. Or you can bundle your service with either DIRECTV or U-verse TV, and unlimited Internet data will be included at no additional charge."
AT&T provides a useful "internet usage" site that walks customers through the different ways in which they consume data. A chart confirms that most customers will receive an allowance of 1TB of data per month. A data calculator helps customers estimate whether their typical usage will stay within the data allowance. The site includes tips for metering and monitoring data usage. Overall, AT&T has suddenly become quite friendly to cord-cutters like myself.
This announcement coincides (not a coincidence?) with an important announcement from Disney (DIS) in its earnings report for the third quarter regarding a partnership with AT&T's coming over-the-top (OTT) service (quotes from the transcript from Seeking Alpha):
"We continue to work with a wide range of distributors to make our content accessible to consumers in more ways than ever. And I'm pleased to announce that AT&T DirecTV, the largest distributor in the country, will feature ESPN, ESPN2, ABC, Freeform, Disney Channel, Disney XD and Disney Junior in all subscription packages offered in its upcoming DirecTV Now OTT service.

…we know from what we've seen particularly in the last year, that the inclusion of Disney product, particularly ESPN, on these OTT services is quite meaningful.

…One thing we should add is that a component of this deal is to provide AT&T Direct with in-season stacking of all episodes of our network shows, which I guess is in the form of change or amendment to the existing deal…"
AT&T announced its OTT service last March but has provided few specifics since. This Disney deal makes it clear the service will be a major contender for the attention of cord-cutters who refuse to get tied up by full cable services. (About.com provides a good description of OTT).
In other words, cord-cutters rejoice! The industry is stepping up with options, flexibility, and the plans to make them work economically. It is truly a brand new world slowly but surely moving away from the cord…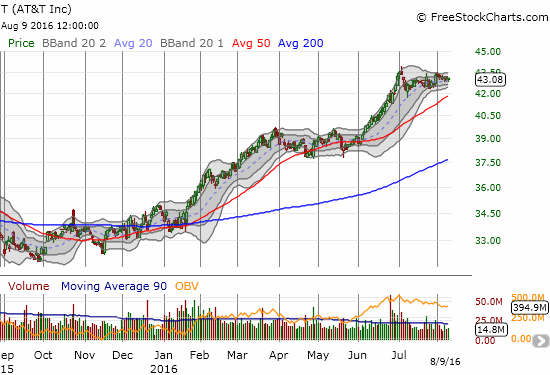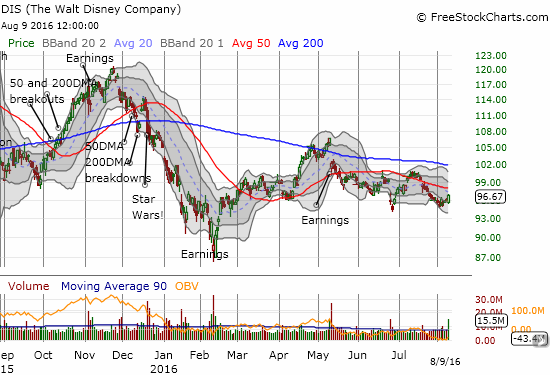 Source: FreeStockCharts.com

Full disclosure: long DIS call and put options