I have waited almost a year to update my data on the valuations of internet-related stocks. The last time I turned the crank on the numbers I documented Facebook's (FB) ascendency in the valuation ranks. I also guessed that the age of double-digit price-to-sales ratios was coming to an end with the potential exception of Facebook. Sure enough, this guess has come to pass. Facebook is the last internet-related stock in my universe left with a double-digit price-to-sales ratio.
Click for a larger view…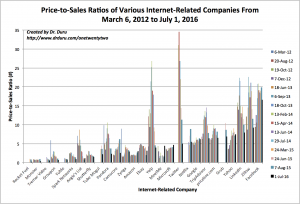 Source for data: Yahoo Finance
Not only is Facebook standing apart, it has increased its lead. Zillow (Z)(ZG) is a distant second. Facebook has increased its valuation ratio with Zillow by about 4% since last August. Even Microsoft's (MSFT) buyout of LinkedIn (LNKD) did not close LNKD's gap with Facebook. FB's valuation ratio with LNKD increased 6% from last August's ratio.
MSFT's premium for LinkedIn puts almost all other lower-valued potential acquisition targets into play. I am thinking of companies like Twitter (TWTR), Yelp (YELP), Pandora (P), and even Shutterfly (SFLY). None of these stocks have price-to-sales ratios over 5 (note I am not comparing growth rates since acquirers will have different notions about potential post-acquisition growth rates). MSFT's premium follows a well-trodden path of highly valued internet-related acquisitions since I started tracking internet valuations.
Also note that this universe of internet-related stocks is getting cheaper via price-to-sales ratios. Nearly across the board, including Facebook, price-to-sales ratios have declined. For many internet-related stocks this valuation decline started as early as 2014 and for most by early 2015. This is a good development for anyone thinking about buying into this space, especially acquirers. AMZN, GOOG, and MSFT are notable exceptions. Given each of these companies plays the role of potential buyers, the buyer currencies are getting relatively more valuable.
Some of these stocks have crossed important technical milestones. Pandora (P) broke out above 200-day-moving average (DMA) resistance. Zillow has more than doubled since the February low. TWTR managed to fill almost all its bearish post-earnings gap down from April, 2016. In the wake of the LNKD buy-out, MSFT broke down below its 200DMA. YELP trades at its high of the year. Amazon.com (AMZN) looks ready to challenge its all-time high after an impressive (and frankly surprising) defense of support at its 50DMA.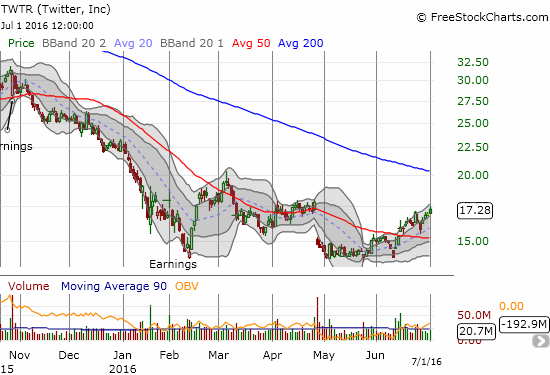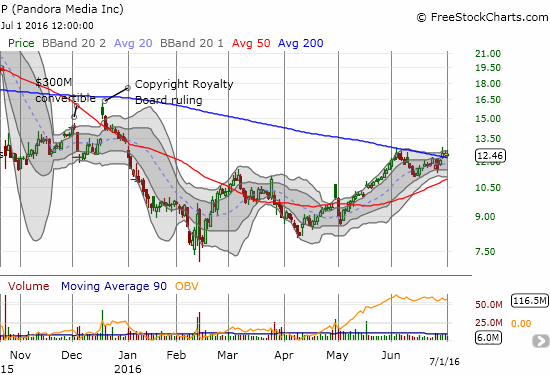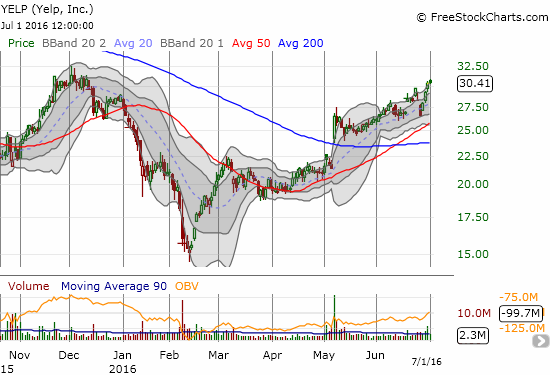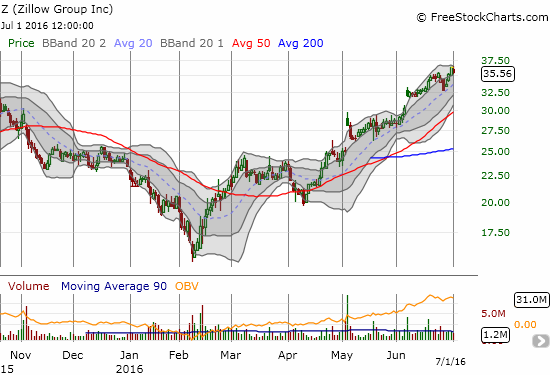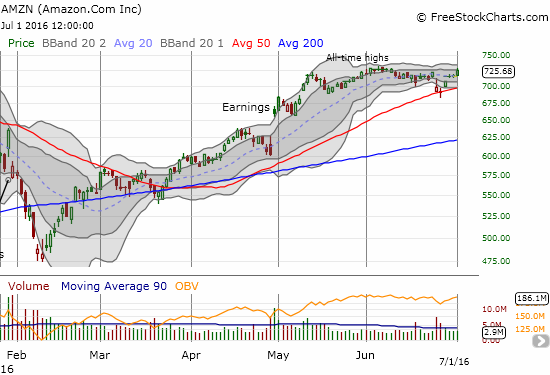 If my short-term read on the market were bullish, I would actively recommend buying a basket of the strongest performing stocks or speculate on cobbling together a collection of potential acquisition targets. Instead, I think it will pay to at least wait until the next round of earnings this month to see what shakes out into the good versus the bad puddles.
Be careful out there!
Full disclosure: long YHOO, short AMZN, long Z and ZG shares with call options sold against both, short TWTR put options,