Earlier this month, I used Google Trends to demonstrate that the currency market lagged a key shift in Brexit sentiment. Just 10 days later, interest (aka anxiety?) in Brexit, the prospect of a UK exit from the European Union (EU), has scaled new heights while the British pound (FXB) has hit new lows for the current sell-off. The screenshot below shows that search interest in Brexit jumped from an index of 63 on Sunday, June 12, 2016 to 100 (the maximum) on June 13th. This move equates to a 58% surge in Brexit-related surges in one day. The bottom of the clip shows that the UK remains far ahead of other nations in its Brexit searches (no surprise there of course!).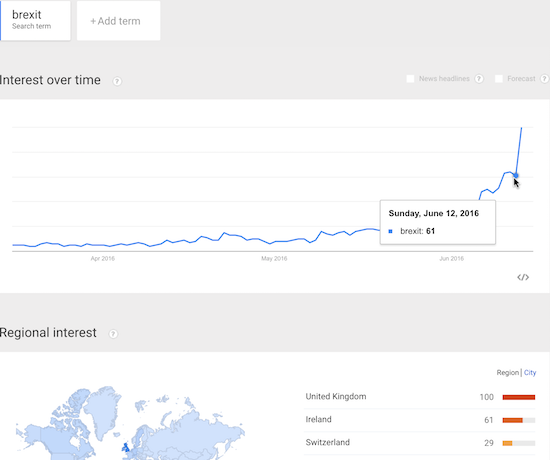 Source: Google Trends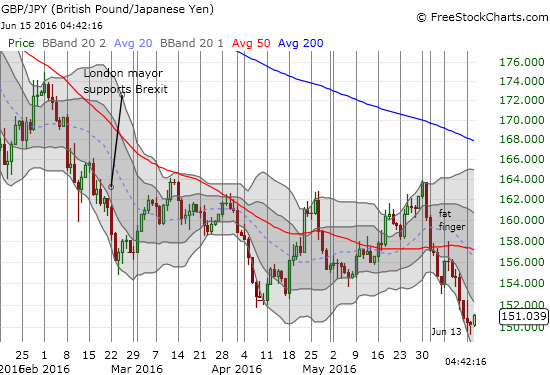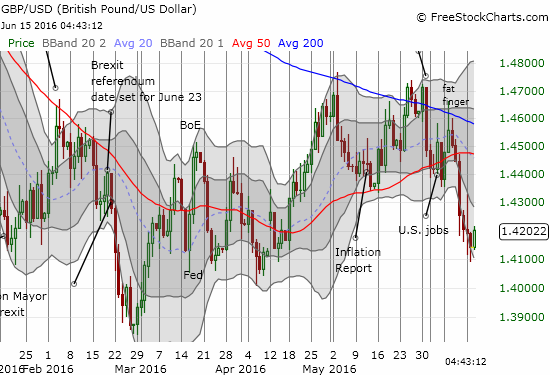 Source: FreeStockCharts.com

This surge in Brexit interest came just ahead of polling showing that supporters of Brexit ("leave") gained the upper hand:
"Three polls released after European markets closed showed Britons were firmly in favour of leaving the EU. The surveys left a poll of polls – which takes the average of the last six results – at its strongest levels for leave since records began last year.

The pound fell by 1pc against the dollar, to $1.4215, while the cost of insuring against a collapse in the pound versus the dollar surged towards its 2008 crisis peak."
Could surging search interest Brexit roughly correlate with growing support of leaving the EU? It at least seems related to growing anxieties about Brexit actually happening.
At the same time of this surge, the volatility index, or the VIX, a measure of put-buying on the S&P 500 (SPY) soared past 20 level. Traders conventionally mark this level as a threshold of "elevated" market fear. The VIX suggests Brexit fears are shared across the Atlantic.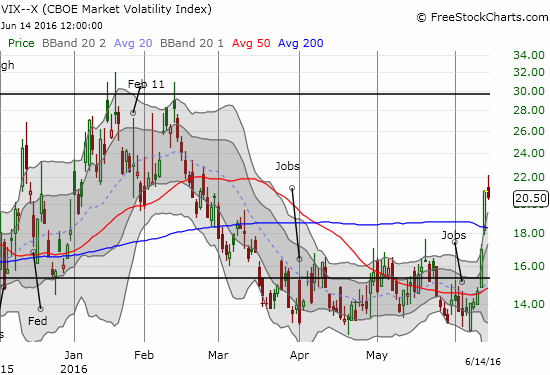 As I noted in an earlier post, this fresh surge in Brexit-related anxiety is running straight into major central bank events. As a result, I will be looking to see whether Brexit interest finally plateaus…and with it an end to the pound's (net) losses until at least the referendum occurs on June 23rd.
Be careful out there!
Full disclosure: net short the British pound