In late February, I wrote "Forget The Yuan – The Devaluation Of The British Pound Is Breathtaking." At the time, I suggested that Google Trends on the search term "Brexit" indicated that the breathtaking losses in the British pound should soon abate (against the U.S. dollar). Sure enough, the pound printed a bottom within a few more days.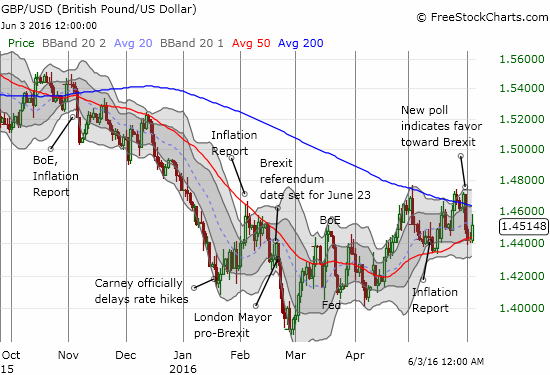 Source: FreeStockCharts.com
The signals from Google Trends worked very well then. However, a divergence appeared in April with interest in Brexit heating back up. In mid-May, interest in Brexit reached new highs.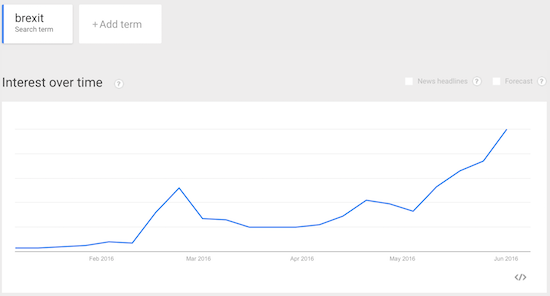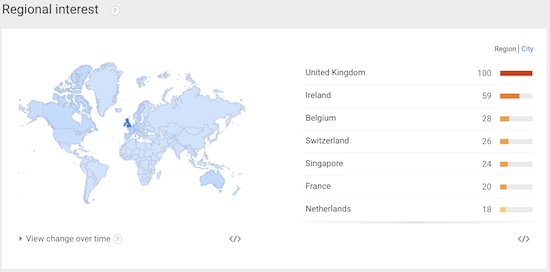 Source: Google Trends
Yet, as the earlier chart shows, the British pound did not make new lows against the U.S. dollar as Brexit interest reheated. While the pound suffered a notable setback in the first half of May, it made a comeback in the second half of May. It took a new poll indicating a small tilt in favor of leaving the European Union (EU) to bring the rally to a complete halt.
The divergence also shows up in the positioning of speculators. Speculators in the British pound began pulling back from net short positions in mid-April just as Brexit interest reheated. Speculators have not shown any inclination to increase net shorts again. Levels of short interest have stabilized over the past several weeks.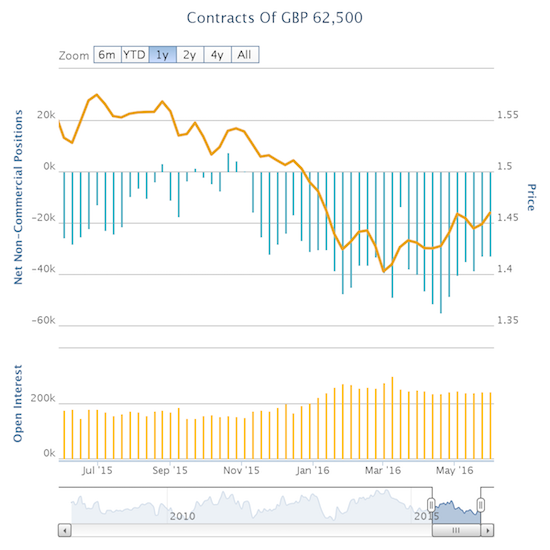 Source: Oanda's CFTC's Commitments of Traders
If my interpretation of Brexit interest remains correct, then the current divergence in financial markets from the dramatic shift in sentiment represents a unique opportunity to get ahead of the market. I interpreted heightened interest in a topic as meaning that market participants will get equally anxious about that topic. Anxiety in this case drives a sell-off in the British pound. A move to catch-up could be swift.
The surprisingly weak U.S. jobs report may have already reawakened fear of event risk in the British pound. Combine that with the earlier sharp reaction to the poll results, and it seems selling interest in the British pound is revving up for the final two and a half weeks going into the June 23rd referendum.
For reference, here is the British pound against the Japanese yen (FXY). GBP/JPY hit a new low in April that was more consistent with the move in Google Trends, but it still managed to bounce back sharply from there. A steep sell-off and a sharp rebound later, and a new sell-off is underway. This latest plunge could mark the beginning of a fresh low for GBP/JPY…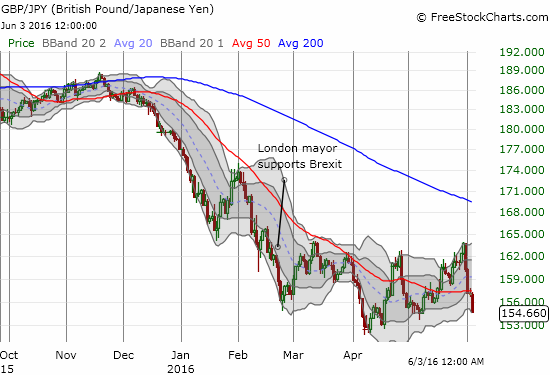 Source: StockCharts.com

Be careful out there!
Full disclosure: net short the British pound