Over four months ago, I wrote about my nascent experience with cutting the cord, aka dumping my cable subscription in "Saving Money On Cable – Inside the Experience of A Cord-Cutter". I have learned a LOT since then. I can now refine my recommendations with this summary of my experience and learnings. Cutting the cord is a TRUE change in lifestyle and requires a definitive attitude adjustment.
My original idea to cut the cord came from the murmuring stirred up from Disney's August, 2015 earnings conference call. At the time, Disney (DIS) announced subscription losses for ESPN and cord-cutting was the presumed culprit at the time. Undeterred by that "hiccup" in ESPN subscriptions, DIS is as adamant as ever in staking a successful claim to the future of media consumption. The company's commentary from its last two earnings conference call provides additional context on the world that is growing to provide alternatives to standard cable subscriptions.
First, the lessons…
Lesson #1 (BY FAR): Life with high-definition (HD) antennas is similar to life with the antennas of old.
As part of cutting the cord, I accepted a sharp reduction in the availability of channels. I had little problem adjusting since I am not a heavy consumer of television. However, I DID struggle to adjust to the "retro" world of searching for quality broadcast signals.
I learned very quickly that even the best HD (high-definition) antenna can be a hit or miss proposition. Trying to get good reception is quite similar to the good ol' bad days of the "rabbit ears" on top of the analog televisions of the past. The search for a good signal is mostly a manual process: changing angles, changing positions relative to windows, changing positions relative to household obstructions, and even elevation.
Much to my dismay, I discovered that these settings are dynamic. Every now and then I even rescan for channels when signal quality seems to have deteriorated across enough channels. No single position lasts as a perfect placement. Signal quality seems to vary by time the day and can even change day-to-day or week-to-week. This dynamism means that my most frustrating experiences with the return to antenna life involve recording television shows (using my TiVo). I still frequently forget to check reception quality ahead of recording time. Even when I remember, I have no guarantee that the last signal quality I see before recording will be the quality I get during the actual recording. I have had these issues even after using the most powerful antenna available from Terk, the model OMNITV3A.
As a result of this uncertainty in signal quality, I have further lowered my expectations for television-viewing. Heavy consumers of broadcast television will certainly find this situation unacceptable. I reached my limit with the Super Bowl. I retreated to a local Buffalo Wild Wings (BWLD) to watch the big game with a friend. I was pleasantly surprised to discover that the entire broadcast signal came through crystal clear on the TiVo (TIVO) DVR. I enjoyed having a chance to watch replays, watch commercials I could not hear through the noise of the restaurant, and review the halftime show one more time. Too bad the game was such a poor display of offense that I am not interested in keeping the recording.
If you use an HD antenna without all the problems I am experiencing, I consider you extremely fortunate! I would also gladly accept your survival tips.
Lesson #2: A smaller selection of channels can INCREASE discovery.
I bought a TiVo DVR to record and store television shows. TiVo's learning feature exposed me to channels I never knew existed or appreciated. While this discovery would have happened if I had TiVo on the cable subscription, I would have been overwhelmed as a light television watcher. With a limited set of channels, the occasional "smart find" by TiVo gave me a broader appreciation for what regular broadcast television still has to offer. I was amazed to see stations that specialize in old movies and television shows from different decades, Black entertainment, and more. Even with the dynamic reception quality, these options made me feel a lot better about my choice to drop cable. The irony of finding more shows to watch with fewer channels is not lost on me!
Lesson #3: Disney is right – it is HARD to give up ESPN!
I REALLY miss having ESPN! Again, I am not so addicted to television that my craving for live sports will drive me back to cable, but I definitely had to work on getting used to missing a lot of live, televised sports events. On the other hand, I became quite comfortable with catching games on the radio, especially through internet radio. Late in the football season, I started doing searches for broadcasts across various NFL teams. SOMETIMES, radio broadcasts for football games were available from team-related sites for free. Most of the time, the sites charge a subscription fee. NFL.com also has pay-to-watch and pay-to-listen packages for hardcore football consumers. Apps like iHeartRadio and TuneIn provided very limited access to broadcasts beyond my local market. I think the 2016 season will bring more live and free streaming options.
I also consumed MORE sports highlights on the web as I sought out the biggest stories to fill sports cravings. I realized that these clips are widely and readily available on the web through sites like Yahoo Sports and NFL.com. I even developed a routine for checking in on the action of almost every football game; it took the loss of the NFL Network and ESPN for me to seek out this alternative.
Lesson #4: The internet offers a rich alternative to fixed television broadcasts.
I discussed the various options for consuming television and movies on the internet in my previous piece. However, I was pleasantly surprised by the depth and richness of programming available on Hulu. I even love Hulu more than Netflix (NFLX) given its selection of the few hit shows I love and its archives of old favorites like Seinfeld and the X-Files. I also did not expect to find so many good movies on Hulu. Thanks to Hulu, I often forget all about the signal issues with live television. Now if only CBS would make the most recent episodes of The Big Bang Theory available on Hulu…
Ultimately, I think cord-cutting will remain a small movement until more "skinny bundles" become available. Once consumers can subscribe over the internet to the few channels or shows that they watch the most frequently, cord-cutting should really take off. Note that most of the apps currently provided by broadcasters require cable subscriptions. When that model changes, I can envision paying a small subscription fee on an app-by-app basis or a small fee for a group (bundle) of apps.
Lesson #5: A cordless household facilitates better management of ad exposure to children
My children are growing up with almost no awareness of regular broadcast television or even advertiser-sponsored content. Almost all the media my kids watch comes from Kids YouTube, Netflix, some Amazon Prime, and DVDs. I think this is a great development. They will not know what they are missing and will develop different expectations from their media experiences that will emphasize flexibility, availability, and mobility. While I am disappointed I have yet to convert my children into sports fans, the upside is that this disinterest greatly reduces or eliminates their need for live broadcast television or ESPN.
Lesson #6: Live financial news is widely available.
I am a BIG consumer of financial news. This is one area of media that the internet covers extremely well. I never watched CNBC much, but I enjoyed occasionally watching the live broadcast from the app. Those internet broadcasts are only available to cable subscribers. For a time, I switched over to Bloomberg's freely available live TV broadcast from its app and got exposed to a whole new vista of financial reporting. Bloomberg also has a better tuned global perspective. Later, I discovered I could still watch CNBC from ETrade (ETFC). I now flip back and forth between Bloomberg and CNBC. I also supplement my viewing with shows and snippets from Yahoo Finance.
Lesson #7: You can make your own HD antenna!
If you are REALLY cheap and/or want to save even more money, you can actually build your own HD antenna. A friend of mine saved some money (and some grief) by hand-crafting his own HD antenna. He constructed it from aluminum foil and taped it to a wall near his television. The antenna is connected to the TV using a regular cable that he spliced as shown below. He claims he gets great reception although I suspect he means he gets great reception for the few TV shows he and his family watch…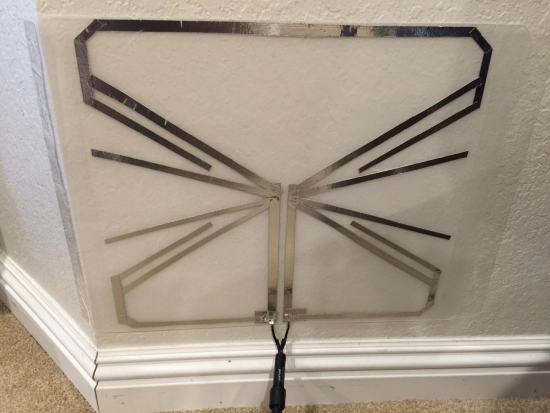 Again, the main lesson from all this is cord-cutting will present a heavy burden and major challenge for heavy consumers of television. I only recommend this big cost-saving step for light consumers of television or people who are looking for an excuse to reduce their heavy consumption. I have personally enjoyed this new "freedom." and I love exploring new ways to consume media content. Most importantly, I definitely do NOT miss the cable bill!
And now on to Disney…
"You should think nothing but happy thoughts about this Company. I don't know what else to say…We believe that we've distinguished ourselves in the media sector, not only with our growth these last number of years, but with the assets that we've collected and with the growth potential that we've created for this Company going forward. And we will leave it at that." – Disney Chairman and CEO Bob Iger, February 9, 2016 (from Seeking Alpha transcript of the Q1 2016 earnings call)
As I noted in the first piece on the benefits of cord-cutting, Disney (DIS) brought cord-cutters into the headlines and investor sights after the company announced last August it suffered reductions in viewership on ESPN. The company speculated about the impact of cord-cutters on the lower cable subscription numbers which were blamed at the time for ESPN's losses. The discussion helped send large shivers throughout the market. Even though blemishes can have harsh impacts on stocks like Disney that are riding high to all-time highs, I was still surprised. After all, DIS also talked about its broad strategy for delivering entertainment wherever users want to consume it. DIS still seems fully prepared and willing to embrace whatever technical and behavioral changes are ahead. This moment of churn seems like a great long-term buying opportunity.
After Disney's August earnings, I wrote "Disney's Bearish Breakdown: A Case Study of Risk Management for Long-Term Investors" to describe a trade using long-term call options. The most recent sell-off has provided the January 2017 $110 call options at a much lower price than I used for the scenarios at the time. Yet, I still think the upside potential in the remaining 11 months to expiration remains the same.
Granted, Disney is now struggling with a fresh breakdown that started just ahead of the release of the latest Star Wars movie (see chart below). Since then, the stock has suffered a classic case of selling on the news. Combined with the general negative sentiment in the market, DIS easily followed its 20-day moving average (DMA) downward. The February earnings announcement finally seemed to wash out selling interest with another large surge in selling volume followed by a rapid return of buyers who returned the stock to the tight range that preceded earnings.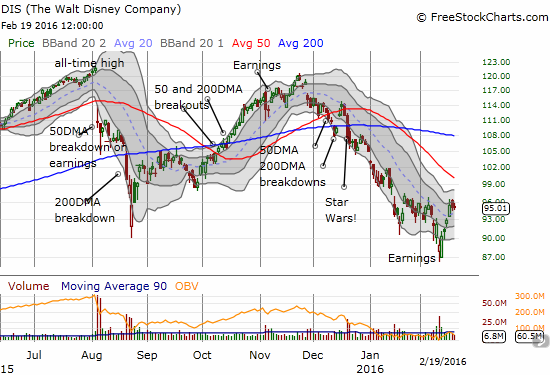 Source: FreeStockCharts.com
By the time Disney announced earnings Q4 fiscal 2015 earnings on November 5, 2015, the stock had recovered from the August Angst and was re-approaching all-time highs again. The immediate response to earnings almost closed the entire gap down from August's earnings. Notably, the term "cord-cutting" was never used during that earnings call either by management or analysts. Perhaps that avoidance helped to calm nerves. The related term "skinny bundle", which refers to a mode of reducing cable subscription costs by distributing channels in a more a la carte fashion, was only referenced in the Q&A and came in the first question (quotes are from Seeking Alpha transcripts). Disney responded by reiterating its belief in its readiness for the future:
"We also decided to be candid, I think maybe refreshingly so, about what the industry was experiencing in terms of sub losses during roughly the last period. And we feel that there certainly should be no reason to panic over comments like that. The fact remains that we're in an environment today that's definitely changing, it's different than the environment before, there's a lot more competition for people's time.

With that interestingly enough, we have an opportunity to distribute our content in many different ways than we ever have before – in more different ways than we ever have before. So, there's not only a silver lining, but there's a glass-half-full perspective on this and that's what we have…

We like the environment, because we think long-term it gives us more opportunities. I should also add that ESPN has been at the forefront of using technology to create more compelling product for its consumers and to be present on more platforms…

We like the trend. We think that the more the merrier in terms of new platforms."
Clearly, at that time, investors were more willing to listen to and believe in Disney's confidence.
Disney Chairman and CEO Bob Iger further offered that "legacy distributors" need to get better at creating the easy-to-find, easy-to-use products required by younger viewers. He also acknowledged that a lack of mobility hinders multi-channel distribution. As a result, Disney has been quite willing to distribute its content with new entrants who have the user experiences that younger viewers seek. As an example, Iger described Disney's strong relationship with Netflix (NFLX) and the strong demand it has seen for its content on that platform.
An analyst summed up Disney's proven pioneering attitude when it comes to flexibility in distribution:
"The first live streaming cable app, the first streaming broadcast network app, the first iTunes episodic content deal, probably the first to sign a light domestic streaming cable product. Now the first do a direct consumer branded subscription product in the UK."
Fast-forward to Disney's latest results for Q1 2016 and reported on February 9, 2016. Ahead of earnings the stock was in the middle of a fresh swoon as I described earlier. Unlike the previous two earnings, sentiment this time was definitively negative going into earnings. By almost any account, Disney's results were stellar. The company summed up its record-breaking performance (all quotes from the Seeking Alpha transcript):
"…our Q1 performance was the greatest single quarter in the history of The Walt Disney Company and a phenomenal start to FY '16. Revenue was up 14%, net income was up 32% and adjusted earnings per share were up 28%, to $1.63 which is our highest quarterly EPS ever and is also our 10th consecutive quarter of double digit EPS growth.
Perhaps because of swirling negative sentiment, Disney returned to addressing the cord-cutting and ESPN angst head-on:
"…In the last couple of months, we have actually seen an uptick in ESPN subs which is encouraging. We're also pleased with what we're hearing from Dish about the response to Sling TV, a light package that includes ESPN. The service appears to be growing nicely and is proving very attractive to young consumers in particular, significantly over indexing among millennials and has been quite successful in bringing previous cord cutters back to pay TV, along with new subscribers. Sling TV is clearly additive to the robust MVPD [Multichannel Video Programming Distribution] universe and our networks benefit accordingly.

The popularity of sports and the strength of ESPN add great value for consumers who want lighter packages and we're currently in discussions with new and existing distribution partners to create an array of innovative new services and light packages featuring ESPN. We will continue to focus on subscriber trends, moving quickly to embrace and create opportunities to drive value in the evolving market."
Iger went on to quote statistics demonstrating how integral ESPN is to adult TV viewing behavior. DIS went back to a familiar theme in reassuring investors that the company is well-prepared for the future:
"The expanded basic bundle will remain the dominant product for consumers for the foreseeable future, but competition from new video services and products will only grow. Better user interfaces and greater mobility make these newer services enormously appealing, especially among young people and many of our brands, including Disney, Marvel, Star Wars and ESPN, are tailor-made for over-the-top direct-to-consumer app-based video products. So expect innovation and continued pursuit of new distribution opportunities…few companies have embraced the promise of new technology as enthusiastically and effectively as ours."
Disney provided some more specific examples of how it is innovating and embracing the future. Disney continues to invest in Hulu. Disney is collaborating with Vice, Disney's distribution agreement with Ali Baba (BABA) for Disney Life in China. ESPN is working with Tencent's mobile platform in China. Disney described the extension of the Marvel franchise through opportunistic deals with Netflix.
Iger could not be clearer about his belief in the strength of ESPN:
"…I actually believe that this notion that either the expanded basic bundle is experiencing its demise or that ESPN is cratering in any way from a sub perspective is just ridiculous. Sports is too popular…And ESPN has this incredible, as you know, incredible set of license agreements with all the major sports. It's got the best menu of live sports that is out there."
So at the same time I am recommending cutting the cord for people like me who are light consumers of television, I am also looking forward in anticipation of Disney becoming a leader in providing and enabling the light and flexible consumption of media entertainment. Cord-cutting (or never getting a cord in the first place) is a viable economic option for a particular segment of the population, but technology and product innovation will eventually connect the Disneys of the world to the growing cordless part of the population in powerful and profitable ways. In the meantime, I will grit my teeth on ESPN and continue to explore the ever-expanding options in the marketplace for consuming media content.
Be careful out there!
Full disclosure: long DIS call options, long BABA, long YHOO