In previous posts, I have pointed to the charts of Google (GOOG) and Amazon.com (AMZN) as very bullish setups. Google has alternated between vindication and disappointment as a big breakout in March eventually gave way to a choppy slide below a declining 50-day moving average (DMA). Amazon.com (AMZN) has slowly boiled since earnings in late April in a well-defined trading range.
Both GOOG and AMZN broke out like champs yesterday (July 13th) and both stocks experienced impressive follow-through buying on strong volume today (July 14th).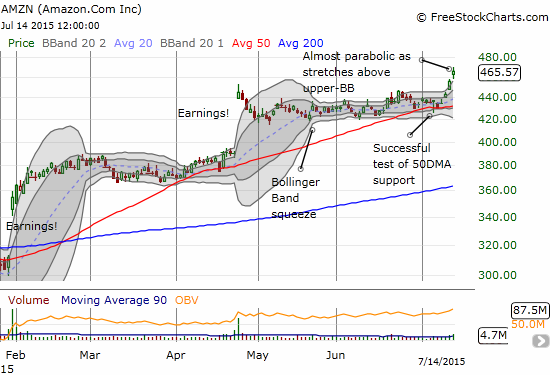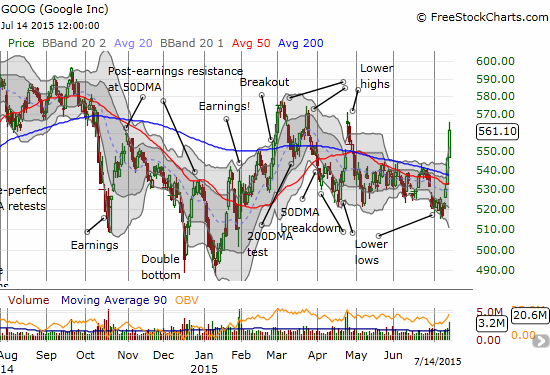 Source: FreeStockCharts.com

While these moves are bullish, both stocks now face significant caveats (challenges).
I do not think a specific catalyst adequately explains Google's pop. I suspect its run-up comes from traders and investors who find it a "cheap" way to participate or "catch-up" in the market's latest rally. Earnings are coming the evening of July 16th just in time to test whether Google can overcome the resistance of a series of lower highs in March and April.
The presumed catalyst for AMZN comes from a big sale on July 15th dubbed "Prime Day" for Amazon.com Prime Members. So the current run-up has a "buy the rumor, sell the news" feel to it. The stock is extremely over-extended now as it is almost going parabolic above its upper-Bollinger Band (BB) to fresh all-time highs. Results of the sale will be anecdotal and will not factor into next week's earnings (April 23rd). Regardless, market participants will probably still twist and turn in anticipation of "early guidance" on the results of Prime Day. A pullback ahead of earnings could be very buyable for a short-term trade. A pullback that closes below the all-time high set post-earnings (~$445) would end the breakout trade. Otherwise, I am content to wait post-earnings as usual and buy the open.
Be careful out there!
Full disclosure: no positions