It was September 17, 2014. Not even a month ago. U.S. Steel (X) enjoyed another gap up just 6 weeks since it printed a 19.4% post-earnings gain. The headline drivers for the latest pop were: 1) a price target boost from Goldman Sachs (GS) from $47 to $58, 2) X's announcement of strategic business actions, and 3) an increase in earnings guidance, albeit not quantified. Since then, it has been all downhill…and fast.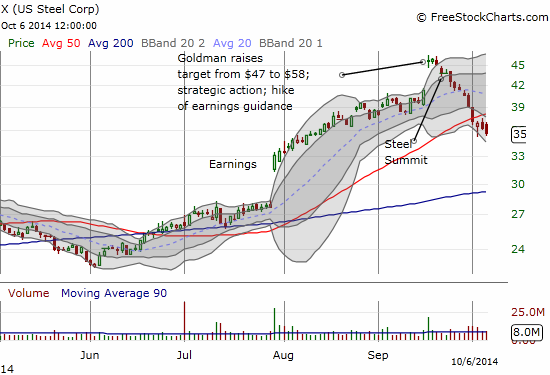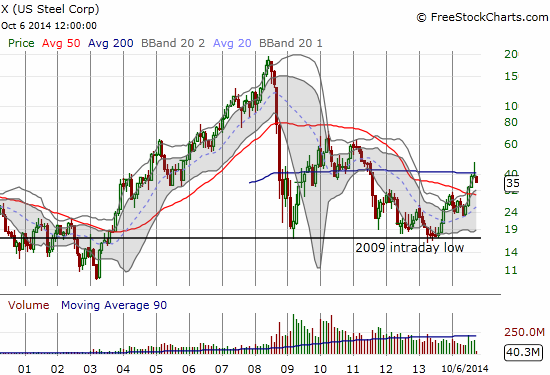 U.S. Steel has sold off straight down 11 of the last 12 trading days. It filled the September 17th gap up in 7 trading days. It has now even sliced right through potential support at the 50-day moving average (DMA). This kind of reversal and breakdown is very bearish for the stock. Yet, I cannot find any definitive news to explain the sudden reversal. From a technical perspective, a complete reversal of the post-earnings gains makes sense as it would neatly coincide with a retest of the still rising 200DMA.
U.S. Steel is not alone. This is NOT a company-specific reversal. Several steel stocks are exhibiting similar trading patterns: a rapid rise to a September 17th peak for the year followed by an almost immediate plunge.
Nucor Corporation (NUE) is retesting its 200DMA and back to negative for the year.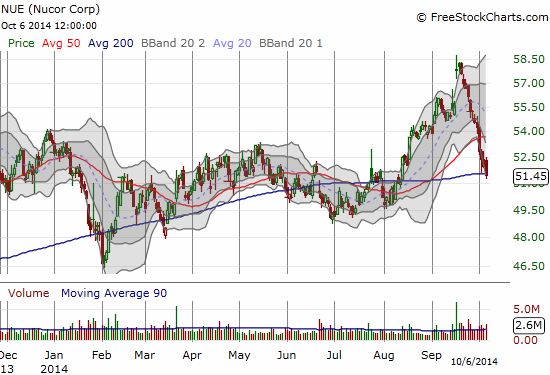 Steel Dynamics Inc. (STLD) has broken through 50DMA support and like U.S. Steel looks ready for an eventual 200DMA retest.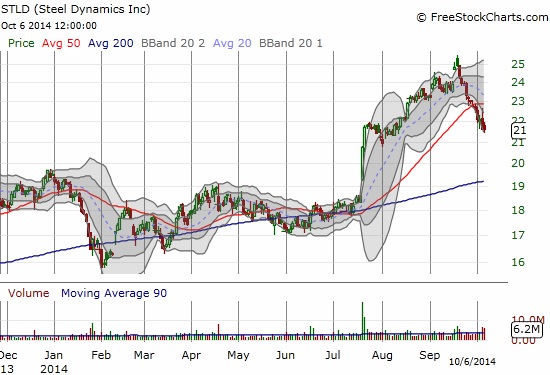 Source for charts: FreeStockCharts.com
I started this year wanting to return to tracking the steel industry more closely. I never did and last month felt like I missed out on a major opportunity. There is clearly another major opportunity, but now I am lot less sure it is to the upside in the near-term.
Be careful out there!
Full disclosure: no positions