I thought I was done posting for the year but two breakouts have my attention this morning. I decided to do a quick post even though trading has not yet closed for the day.
NQ Mobile (NQ) caught my attention in late October when it plunged an incredible 63% on no company news, just a report from short-seller Muddy Waters. These kind of moves are rarely sustainable if there is not specific, company news rolled out in the immediate aftermath. NQ has of course vehemently denied "the charges," and as far as I can tell, no smoking gun as appeared yet. Sure enough, NQ has been on the slow and steady path to recovery, culminating in a nice breakout move this week.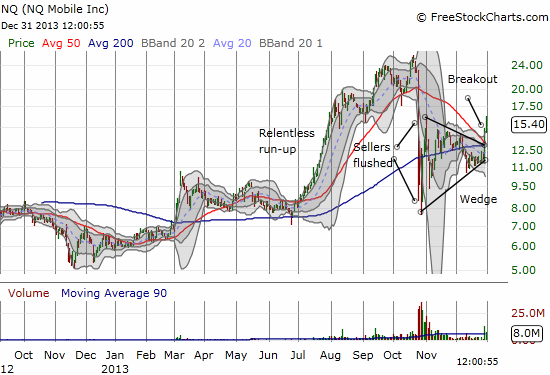 This stock is certainly not for the faint of heart. It certainly seemed to be fine right up until the report. For example, here is what briefing.com had to say literally right before Waters slammed the stock on October 24th:
"We just published a truncated report on NQ Mobile (NQ) on our Small Cap Focus page that was originally published on our Briefing InPlay Plus (BIP+) service on September 20. In order to give Platinum subscribers a sample of the brightest growth ideas we cover, we provide monthly reprints of Emerging Growth (GROWX) on the Small Cap Focus page.

NQ Mobile (NQ) is a good example of the type of undiscovered ideas our Emerging Growth ranking system is designed to uncover.

We have been big fans of the name and we were early in terms of putting it in front of investors. We think the company seems to finally be at the early stages of graduating from a fringe, speculative Chinese tech name into a more substantial company. Over the past year, it has transformed itself quite a bit. It entered our Emerging Growth rankings on July 29 at $13.79 and it has traded up as much as 88% before pulling back recently.

If you'd like to take a free trial of our BIP+ service, please click here. To view a free webinar on how the Emerging Growth system works, click here."
Recently, it seems big hedge funds have started buying the stock as short sellers have begun a retreat. One of the more interesting articles I have seen compares the trading opportunity in NQ to Herbalife (HLF). See "Short Sellers Greatly Decrease Their Positions In NQ Mobile: A Reversal Seems To Be In The Works." (long-time readers know I was quite bullish on HLF in the Bill Ackman aftermath).
I have my eyes squarely focused on the technicals. For now, the bias remains firmly up. This week's breakout confirms the bullish bias. I have positioned myself in a collar (long shares and puts, short calls) specifically so that I need not worry much about the day-to-day drama in the stock. Of course, with a breakout, this is not an ideal position. I was anticipating more range bound trading around and below the 50 and 200DMAs. So, if this breakout continues, I will be leaving a good chunk of change on the table.
Crocs (CROX) is a much simpler story. The stock has been on a major roller coaster. It looked like it was going out of style and out of business when the financial crisis took the stock below a buck. Over the next 2 1/2 years, it became one of those (many) stocks I wish I had been brave enough to just buy anyway. CROX peaked around an incredible $32 in 2011 but has been mostly downhill since then. CROX suffered major gap downs in October, 2012 and July of this year. This week's breakout recovers the first losses (again) but not the second. So, the breakout on news that CROX reaffirmed its guidance and that Blackstone (BX) has made an investment is a breath of fresh air for the stock. The trading opportunity is to ride the breakout with a tight stop below the 200DMA.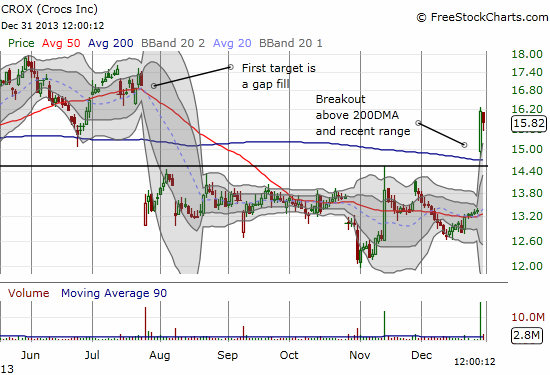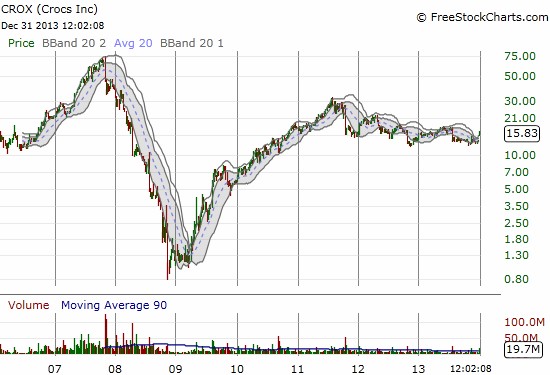 Source: FreeStockCharts.com

Be careful out there!
Full disclosure: long NQ shares and puts, short NQ calls