After failing to to topple over the 1.56 level over the past week, the British pound finally made a major breakthrough today against the U.S. dollar (FXB). This surge takes GBP/USD takes the currency pair right into the teeth of resistance from declining 50 and 200-day moving averages.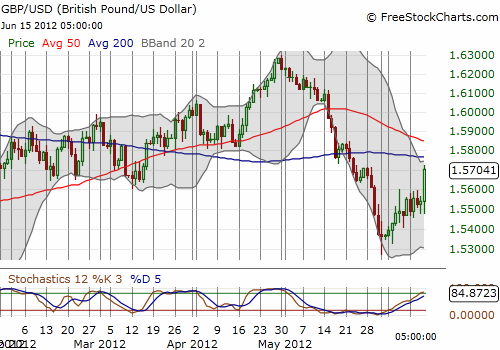 Source: FreeStockCharts.com
I think this resistance will be tough to break, even with the swirl of macro-economic news regarding European sovereign debt and Greek elections. When/if this resistance breaks, I will feel compelled to go bullish on the British pound versus the U.S. dollar. Now that the British government is working in concert with the Bank of England to ease credit conditions in the country while the U.S. continues to struggle to come to any economic agreements, I have to assume advantage goes to the British pound for now.
This surge may seem odd to anyone reviewing news of monetary easing (see "Auctions to be held under the Extended Collateral Term Repo Facility") and trade balance numbers that were much worse than expected and represent a record low. However, the British pound has been badly beaten up since reaching its last peak at the end of April (that was a time when there was excited talk that the British pound had become a safety currency). So now the pendulum has swung to the other side of sentiment. Discouraged traders and investors can now contemplate a more rosy economic outlook for the UK economy on the other side of this coordinated action.
I want to buy dips on the assumption that GBP/USD will tend to keep trading toward resistance. I do NOT want to fade this pair given my increasing bearishness on the U.S. dollar.
Be careful out there!
Full disclosure: no positions