(This is an excerpt from an article I originally published on Seeking Alpha on March 29, 2012. Click here to read the entire piece.)
{snip}
This is the change in "guidance practices" and outlook that beleaguered mobile company Research In Motion (RIMM) announced in its latest earnings report today. It has all the trappings of a company hunkering down in the midst of assaults on all sides of its business. {snip}
I am fascinated by RIMM's large cash horde because once upon a time last June, RIMM announced its third share repurchase program in recent years. I expected that event to provide a major catalyst given how aggressively RIMM executed its previous programs. {snip}
This latest earnings report also reported no stock repurchase activity. With the company officially in retrenchment, I fully expect the remaining months of the buyback authorization to fade away with cash staying in the bank. Although the last two buybacks have now resulted in massive paper losses, I still find it a bit ironic that the company buys no shares exactly when it should be insisting louder than ever that its shares are insanely cheap.
Regardless, with a large turnover in management, a GAAP net loss for the quarter, the suspension of faulty guesses at guidance, all capped off by a steep after-hours plunge and recovery, it is possible the inexorable trip to single digits is indefinitely postponed. Perhaps. Time should tell.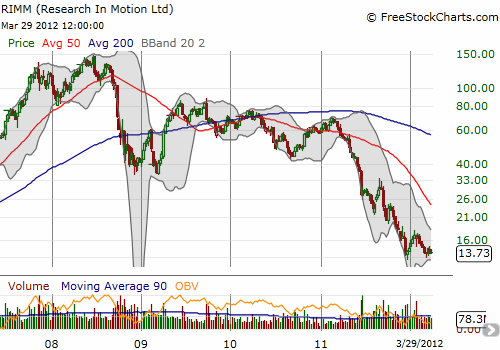 Source: FreeStockCharts.com
Be careful out there!
(This is an excerpt from an article I originally published on Seeking Alpha on March 29, 2012. Click here to read the entire piece.)
Full disclosure: Long RIMM shares, calls, and puts; short calls