In mid-February, I posted Groupon (GRPN) as a bearish post-earnings play (see "Groupon Loses Gains From Facebook IPO Hype And Put Options Soar"). At the time, I claimed that the stock would linger around its $20 IPO price for a while after the immediate post-earnings selling. Sure enough, GRPN hung around $20 for another two weeks. Extremely overbought conditions in the general stock market finally gave me an excuse to make another play for puts. Now, GRPN is finally continuing its journey to retest its post-IPO lows.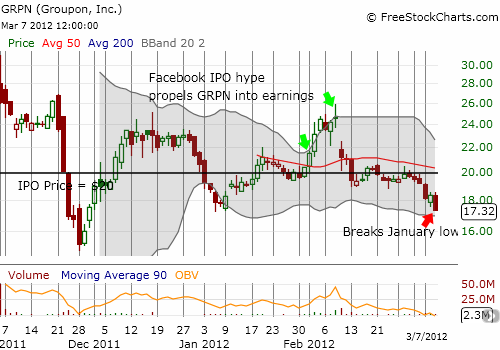 Source: FreeStockCharts.com
The daily chart shows that selling has dominated the trading action in GRPN ever since its earnings disappointed. The red candles are now expanding as GRPN falls. The momentum is definitely pointing downward. I am guessing that a disappointing earnings report from Pandora (P) helped generate today's 5.5% drop. Pandora reminded investors that some of these new internet-related IPOs are generating spectacular revenue growth at a high cost. In the case of Groupon, if the company does not demonstrate real earnings power/potential in the next one or two earnings reports, the stock will easily cleave through the current $15 lows on its way to single digits.
Be careful out there!
Full disclosure: long GRPN puts