Throughout Amazon.com's near 3-month downtrend, I have pointed out several bearish set-ups and confirmations on the stock in blog posts and tweets. On Tuesday, Amazon.com (AMZN) started the new year by finally breaking away from the downtrend. Today, AMZN lacked follow-through and put the breakout on tenuous ground. I remain bearish on AMZN but prefer to initiate any new bearish position on a test of resistance either at the 50 or 200DMA. Normally, I wold also pencil in a break of recent lows as another potential entry point, but AMZN has an interesting habit of surging strongly after breaks of support or deep sell-offs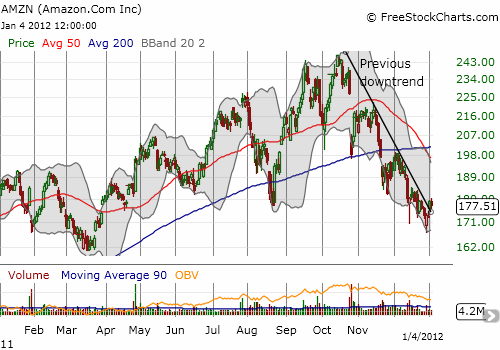 Source: FreeStockCharts.com
Also note that AMZN has now spent 1 1/2 months below the critical 200DMA. If follow-through to the upside does not materialize soon, I will assume that a new phase of selling, likely the strongest yet, is coming for the stock.
AMZN did get good press over record Kindle sales where the Kindle Fire supposedly cannibalized sales of Apple's iPad. However, extrapolations from comScore's holiday sales data suggest that AMZN will slightly miss revenue expectations for Q4. This would be bad news following a quarter where AMZN missed earnings expectations. AMZN next reports earnings the evening of January 24th. The post-earnings trading is likely to deliver the usual fireworks. I will be waiting…
Be careful out there!
Full disclosure: no positions