On December 5, Southwest Airlines (LUV) CEO Gary Kelly distributed a memo to employees describing the cost challenge ahead for the company (for example, see Bloomberg article "Southwest Fights 'Cost Enemy' After AMR Bankruptcy Filing"). With American Airlines (AMR) declaring bankruptcy as a way to cut its costs, Southwest became the last major carrier yet to take that cost-cutting route. In a way, it is "mission accomplished" for Southwest as these industry bankruptcies have decisively validated the airline's business model. From the CEO's memo:
"The sloth-like industry you remember competing against is now officially dead and buried. We fought them and we won."
However, the price of success is that Southwest's rivals have become more competitive as they have taken drastic measures to cut costs. The pressure is now on Southwest to produce its own dramatic changes to stay ahead of the competition. Again, from the CEO's memo:
"Now the enemy is our own cost creep, our own legacy- like productivity and our own inefficiencies. Fighting this cost enemy is an imperative."
Judging from Bloomberg's quote from Southwest CFO Laura Wright, it does not seem this memo was a thinly veiled warning to employees to make concessions. I am also assuming there is no subtle warning that the airline may one day fall prey to the bankruptcy contagion. After all, Southwest has produced 38 years in a row of annual profits. Nonetheless, Southwest's shares have steadily declined since reaching an all-time peak at the end of 2000, making the stock a very poor investment. At some point, the airline will need to do something dramatically different to turn things around.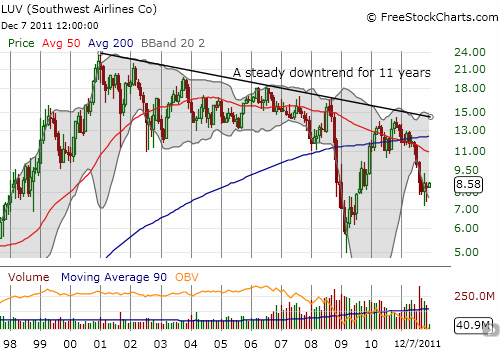 Speaking of American Airlines, the stock of its parent company, AMR, has made an amazing rebound from its all-time lows. I just assumed that the stock would quickly head toward zero after writing about AMR's bankruptcy filing. Instead, the stock has more than tripled from the close of trading following the bankruptcy announcement to actually trade over $1 per share.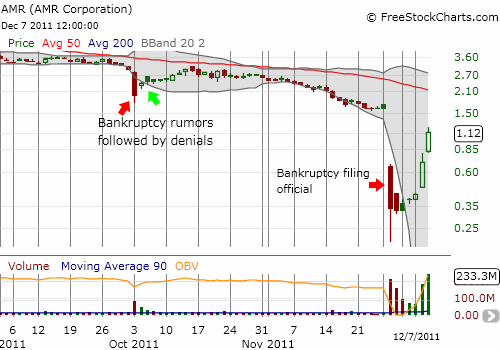 Source for all charts: FreeStockCharts.com
Although AMR has announced some good news – such as yesterday's news about a partnership with China's Hainan Airlines – I do not interpret this bounce as a signal that American will somehow suddenly avoid bankruptcy. For example, AMR has made several more management changes in preparation for its massive restructuring efforts including the appointment of Beverly Goulet as "Chief Restructuring Officer." I expect the momentum on the stock to soon wane as rapidly increasing downside risks dissuade new buyers from taking a roll of the dice on these shares. Interesting enough, this bounce is not likely the action of short-covering. As of Nov 15, about 16% of AMR's float, or 53M shares, was held short. The chart above shows that this amount of shares represents the FLOOR of trading volume over the past seven days.
Be careful out there!
Full disclosure: no positions