Many technology stocks have rebounded sharply off their August lows. Stocks like Amazon (AMZN) and Apple (AAPL) have even managed to register fresh all-time highs in the past week. On the other hand, Google (GOOG) has gone nowhere in about two years and now faces overhead resistance yet again. In today's trading, GOOG was turned backward exactly at the 50-day moving average (DMA). Without additional support form the general stock market, GOOG is very likely to continue pulling back from resistance.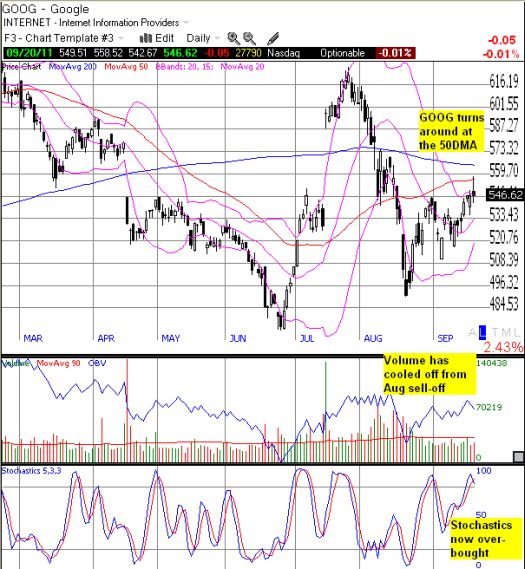 *Chart created using TeleChart

Commodity stocks have not fared as well as tech stocks on a relative basis since the August lows. After sharp rebounds for a week or two, rallies quickly stalled and now many of these stocks are retesting the August lows. In the case of copper, the retest already failed last week. Copper printed fresh 2011 lows and now rests at levels last seen in November of last year.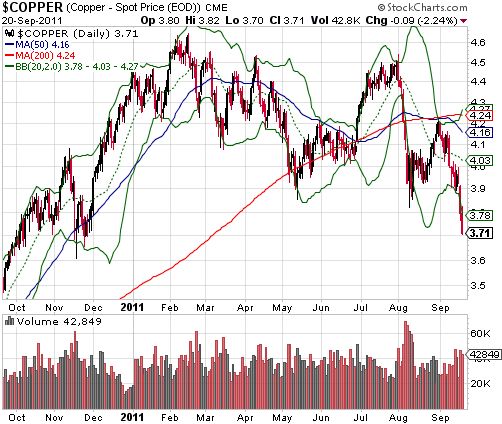 Source: stockcharts.com
Copper's steady decline this year and the new 2011 lows seem to confirm that an economic slowdown is well underway. This slowdown is likely to persist for some time to come. For an important caveat to this assumption, see "The Doctor is Calling" by Mike Shedlock at MISH'S Global Economic Trend Analysis (September 25, 2006) to see how copper's weakness in 2006 sent a false (or VERY early) signal of imminent economic weakness.
Copper-producer Freeport Mcmoran (FCX) made new 52-week lows today. The stock is now just 6.6% away from erasing all its gains "inspired" by the Federal Reserve's second round of quantitative easing (QE2); I measure gains from the end of August when Ben Bernanke telegraphed QE2 at Jackson Hole. According to my commodity crash playbook, this is the spot where I continue rebuilding my portfolio of commodity stocks by adding FCX to the basket.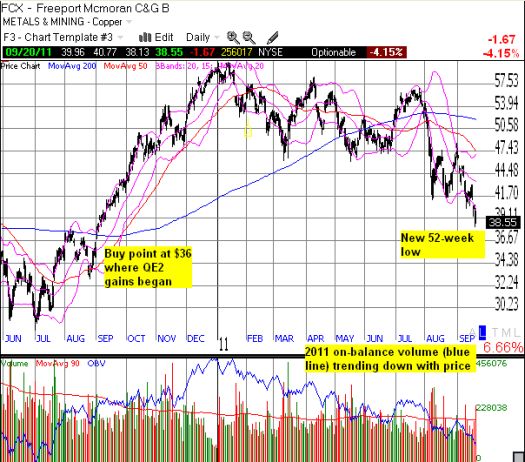 *Chart created using TeleChart

Be careful out there!
Full disclosure: long AAPL call spread, long AMZN puts