(T2108 measures the percentage of stocks trading above their respective 40-day moving averages [DMAs]. To learn more about it, see my T2108 Resource Page. You can follow real-time T2108 commentary on twitter using the #T2108 hashtag.)
T2108 Status: 22%
VIX Status: 39
General (Short-term) Trading Call: Hold (more details below).
Commentary
There is nothing like stating you have a bullish bias right before the rug gets from under your thesis. I posted my last T2108 Update right before the market opened on Friday. One moment, the futures were relatively calm, the next moment bad news from Europe seemed to send markets into another hissy fit. After the dust cleared, the S&P 500 closed with a loss of 2.6%, and T2108 somehow managed to stay out of oversold territory. T2108 closed at 22%. I was sorely tempted to make some T2108 purchases ahead of schedule, but I changed my mind.
With T2108 on the edge of starting another stomach-churning oversold period, let's review my bullish thesis from the last post (click links for charts):
Generally, higher lows and higher highs on the S&P 500 since the August intraday lows. This pattern remains intact…just barely. A close below September's intraday low, printed on Tuesday's big swoon, will break the weak uptrend and send the S&P 500's bias pointing downward.
The VIX remains elevated, but Wednesday's rally created an abandoned baby top on the volatility index. The VIX rallied 12%a and easily closed the gap that created the abandoned baby top. At one point the VIX traded at its highs for the month. This move essentially invalidates the technical pattern of the abandoned baby top. From my informal observation, such a move signals a resumption of further gains.
The CBOE equity put/call ratio recently hit a new 6-month high. The CBOE equity put/call ratio quickly dropped to at least 6-month lows on Wednesday's large rally. This should have told me that the fear seemingly embedded in the high readings is not deeply entrenched. Instead, I considered how this move could represent a bullish sign. Although the put/call ratio bounced right back to 6-month highs, I am now more circumspect.
So, overall, the stock market is clinging to its momentum from the bounce from August lows, but this move is as tenuous as ever. After Tuesday's sell-off, I guessed that T2108 would close in oversold territory before the end of the week. Otherwise, I would assume buyers are taking firmer control of the market. Neither event happened. I am now expecting T2108 to close in oversold territory next week, perhaps as soon as Monday. With options expiration on Friday, I am also expecting more of the very large swings that have plagued the market for over a month.
I will further reduce holdings in other bearish positions on dips. However, I will be looking to trade VXX more actively by buying shares. I have no plans to buy any more shares of individual stocks, but will play SSO according to the oversold trading rules if T2108 sinks back into oversold territory.

Charts below are the latest snapshots of T2108 (and the S&P 500)
Refresh browser if the charts are the same as the last T2108 update.


Daily T2108 vs the S&P 500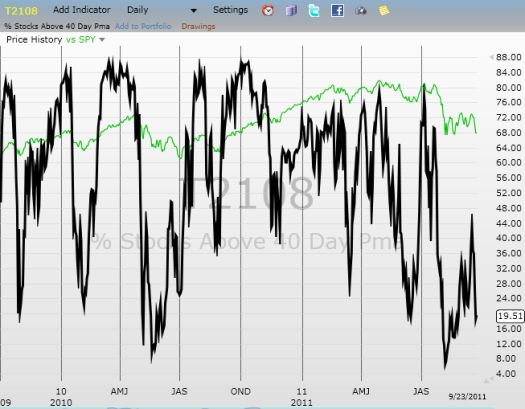 Black line: T2108 (measured on the right); Red line: S&P 500 (for comparative purposes)

Weekly T2108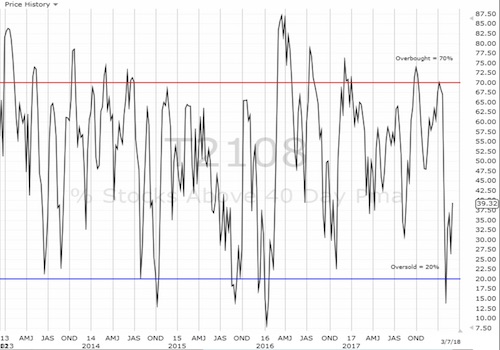 *All charts created using TeleChart:

Related links:
The T2108 Resource Page
Expanded daily chart of T2108 versus the S&P 500
Expanded weekly chart of T2108
Be careful out there!
Full disclosure: long shares and calls on SSO, long VXX puts