(T2108 measures the percentage of stocks trading above their respective 40-day moving averages [DMAs]. To learn more about it, see my T2108 Resource Page.)
T2108 Status: 39% and Neutral
General Trading Call: Cover a few shorts, identify a few longs, otherwise hold.
Commentary
T2108 dripped down to 39% and is now officially within my downside target range of 30-40%. The trading call acknowledges that the descent into this range means this phase of the cycle could be reaching a bottom soon. While I remain overall bearish on the S&P 500, the closer T2108 gets to 30%, the more shorts I want to cover and the more interested I get in looking for long trading candidates.
Again, technically, I consider 20% as oversold, but the stock market has rarely reached those depths since March, 2009.
The S&P 500 was essentially flat although the dollar index backed off, erasing most of its gains from the previous day. (S&P 500 chart not shown. Click here for chart of the S&P 500 at stockcharts.com).
On a quick sidenote, notice that LinkedIn (LNKD) jumped 8% on the first day traders were able to officially borrow shares for shorting. Given the apparently strong interest in getting short the stock, this contrary move is very bullish for even higher prices…as hard as it is to believe given LinkedIn's extremely rich valuation. This episode is just one more example of how a trader must be wary of falling in with consensus opinion. Next up, options are available on Thursday. Wanna bet the premiums will be extremely high as traders rush to buy puts? And then watch those premiums fade away to LNKD's first options expiration? Should be "interesting" to watch!

Charts below are the latest snapshots of T2108 (and the S&P 500)
Refresh browser if the charts are the same as the last T2108 update.


Daily T2108 vs the S&P 500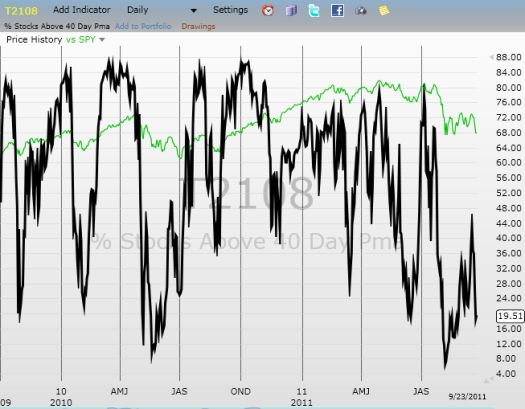 Black line: T2108 (measured on the right); Red line: S&P 500 (for comparative purposes)

Weekly T2108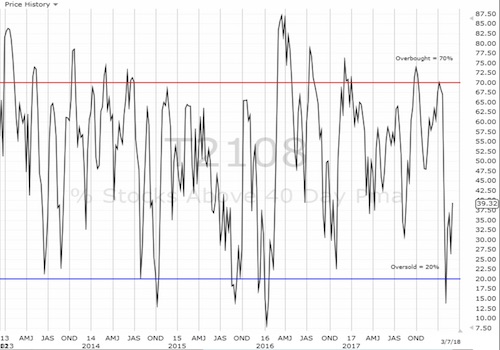 *All charts created using TeleChart:

Related links:
The T2108 Resource Page
Expanded daily chart of T2108 versus the S&P 500
Expanded weekly chart of T2108
Be careful out there!
Full disclosure: long SSO puts, net short U.S. dollar