(This is an excerpt from an article I published on Seeking Alpha. Click here to read the entire piece. Full article includes extensive notes from LPS's last earnings conference call.)
For two weeks, I have tried to post my notes from the first quarter earnings conference call for Lender Processing Services, Inc (LPS), a major provider of mortgage and consumer loan processing services, mortgage settlement services, default solutions and loan performance analytics. Over this time, data on the housing market has worsened and even hit some important, and ominous, milestones all of which illuminated LPS's claims that the company should soon see an improvement in its foreclosure-related businesses…
The data appear to validate LPS's claims that a backlog of foreclosure activity has grown to unsustainable levels and must soon get worked down…
(snippet from notes on the conference call):
To-date, foreclosure activity has dropped…
Mortgage servicers have pulled back significantly on foreclosure activity due to regulatory pressures at federal and state levels
Major revisions in servicing standards at federal and state levels, as well as initial impacts of Dodd-Frank legislation
Decreased industry volume trends in core origination and default segments: 12% year-over-year decline in industry origination volumes and 35% decline in notices of default
However, prospects are looking up for LPS as prospects look poor for homeowners: Key factors that should drive foreclosure activity are still present
Decline in estimated default market revenues is deferral, not a permanent loss
The inventory of seriously delinquent loans and loans in foreclosure remain at elevated levels, well above 4M
Average age of inventory continues to grow, as the average age of a loan in delinquency is 368 days and that same metric for foreclosure inventory is now 549 days
Unemployment rate remains very high
Percentage of homes in negative equity position remains at over 20%
Best case for 2011 home prices is probably flat with a more likely scenario being a modest decline
As a result of these factors have adjusted default revenues forecast upward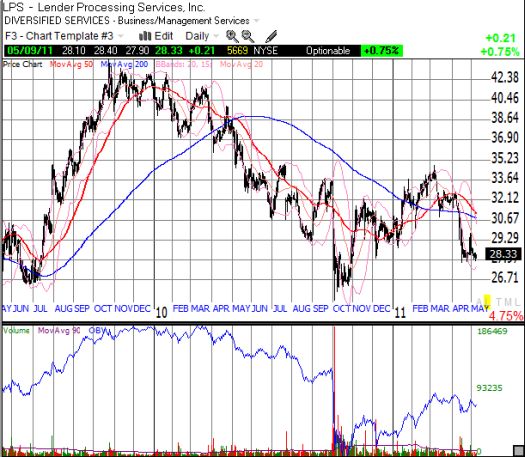 *Chart created using TeleChart:

(This is an excerpt from an article I published on Seeking Alpha. Click here to read the entire piece. Full article includes extensive notes from LPS's last earnings conference call.)
Be careful out there!
Full disclosure: long LPS, XHB puts