I thought TBT's (ProShares UltraShort 20+ Year Treasury) successful test of the 200-day moving average (DMA) back in March would mark the beginning of a fresh extended run higher. Instead, the declining 50DMA marked the true short-term trend, and, for the second time in a month, TBT failed to break that resistance. At the end of April, TBT finally broke down below the 200DMA, and I suspect that trend line will soon follow the 50DMA downward.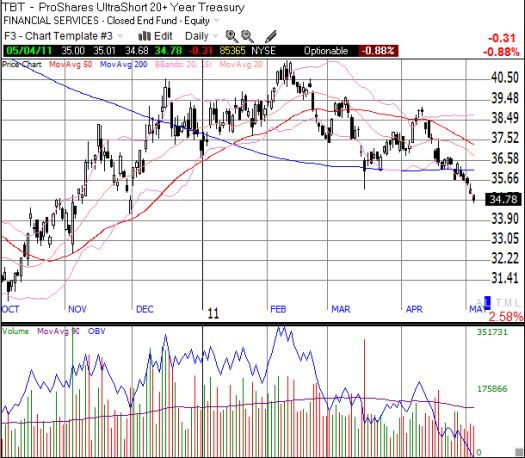 It seems that the market is starting to price in economic weakness around the corner, even commodity prices are beginning to limp. This explanation is my assumption by default because I cannot think of (accept?) any other more plausible reason for the declining yields on government bonds with QE2 about to end, and the resulting removal of the artificial prop of the Fed's buying of bonds. Of course, some have argued that it is exactly because of QE2's end that yields will go down as investors anticipate weakness in the economy without the Fed's steady hand at the printing press. (Yes, enough to make one's head spin!).
Weaker than expected ISM non-manufacturing numbers seemed to confirm the economy is weakening by hitting some ominous milestones:
At 52.8%, this was the lowest level since August, 2010…not long before Ben Bernanke decided to drop hints that QE2 would be necessary to revitalize the economy.
Dropping from 57.3% in March marked the largest one-month decline since November, 2008, right after the financial panic began in earnest.
However, overall economic data seem mixed, giving bears and bulls alternating moments of confirmation. The market is in the habit of ignoring the jobs number, so I do not think Friday's release will mean anything unless it is unexpectedly strong.
In the meantime, I will be looking for one last gasp rally into resistance before unloading my long positions in TBT. My next forays into TBT will likely be much shorter in duration.
Once again, the flip side of TBT's stubborn weakness is the creeping strength in TIP, the iShares Barclays TIPS Bond Fund. It is well above where I decided to sell my last position, and I am thinking of selling again soon.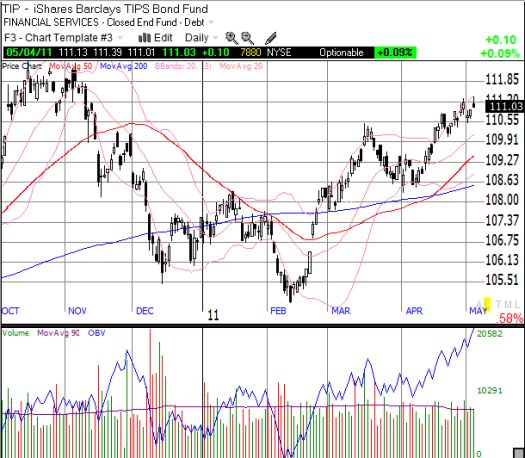 *Chart created using TeleChart:

Be careful out there!
Full disclosure: long TBT, TIP