On Wednesday, the Office of the Comptroller of the Currency rendered punishment on Lender Processing Services, Inc. (LPS) and other financial institutions "…for unsafe and unsound practices related to residential mortgage loan servicing and foreclosure processing." (See OCC Takes Enforcement Action Against Eight Servicers for Unsafe and Unsound Foreclosure Practices). The OCC now requires mortgage servicers to reform and improve practices for servicing residential mortgage loans and processing foreclosures. To support these actions, servicers must use independent firms to conduct audits of these practices and processes as they unfolded in 2009 and 2010. In the case of borrowers who wrongly suffered financial harm, servicers must provide monetary compensation. The OCC may also assess civil penalties.
Specific to LPS, the OCC now requires mortgage servicers to "…establish robust oversight and controls pertaining to their third-party vendors, including outside legal counsel, that provide default management or foreclosure services." LPS provides mortgage processing services, settlement services, mortgage performance analytics and default solutions. It is not clear from the OCC's announcement whether LPS may be held financially liable for any damages. LPS has repeatedly insisted that it is insulated from such claims.
Although the stock immediately sold off on the news, I think the overall reaction was relatively mild. LPS may have finally reached the point where the news cannot get much worse – at least regarding the "foreclosure crisis." The chart below shows that LPS did experience a technical breakdown below the 200-day moving average (DMA):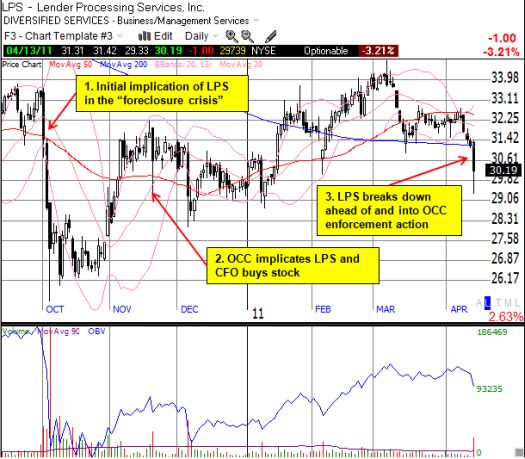 LPS first got my attention when the stock experienced heavy buying of March, 2011 puts with a strike price of $30 immediately ahead of the October sell-off. Ever since then, I have periodically checked in on subsequent put activity. I profited at first, but the second time I got back in was a wash as LPS essentially stabilized. LPS sold off about 10% ahead of the expiration of the March options but this was after a multi-month rally that kept LPS well above $30 into expiration.
In the interim, I believe the roughly 10,000 open interest in March 30 puts was shifted out another six months. The chart below shows how open interest surged in the Sept 30 puts in early February and has remained above 10,000 ever since. Now, instead of assuming this accumulation of puts is a bet on some disastrous news, I think it is a hedge for safe-keeping, no doubt by someone who still feels the sting of the swift and painful decline in early October of last year. Note well that no other put or call comes close to this level of open interest – the June 35 call has the second highest open interest at 1020 contracts.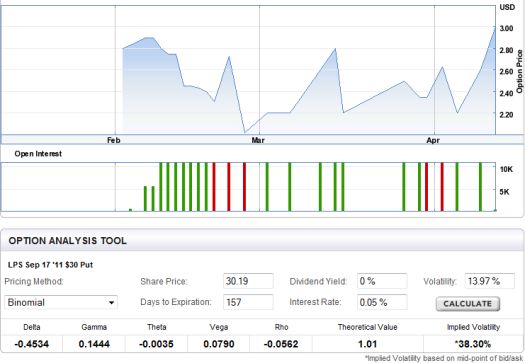 Source: ETrade Options

Combined with the CFO's insider purchases in November and the lack of specific punishment for LPS in the OCC enforcement action, I am much more inclined to look for a buying opportunity in LPS rather than chase it down. Even shorts have been gradually exiting positions in LPS.
Source: NASDAQ.com
Although April options expire in 2 days, over 4000 April puts traded in the wake of the OCC news. If this volume translates into fresh open interest, I imagine LPS will find an immediate floor at Wednesday's climactic low around $29. A break below $29 will motivate me to revisit my assumptions.
The weekly chart below shows that the bounce from the October lows has easily held to-date.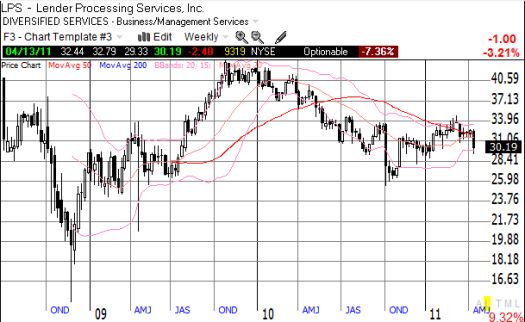 *All LPS stock charts created using TeleChart:

Be careful out there!
Full disclosure: no positions