Higher oil prices are not helping solar stocks. Instead, earnings disappointments and hand-wringing in Italy over solar subsidies and policy have put downward pressure on almost the entire sector. While it seems the second half of 2011 could be rough for solar stocks, the current sell-off seems to be creating some buying opportunities.
First Solar (FSLR)
FSLR reported earnings last week. The company tightened 2011 guidance on earnings per fully diluted share (EPS) to $9.25 – $9.75 from $8.75-$9.50 and revenue (net consolidated sales) to $3.7-3.8B from $3.7-3.9B. The small reductions at the top-end are a little disappointing, but other than that minor surprise, the results seemed to say "steady as she goes." FSLR sold off 5% the following day and is now down over 10% since reporting earnings. The stock has moved right back into the gap down created by October's disappointing earnings results. However, given FSLR was as high as $175 ahead of these latest earnings, I think the current reaction reflects expectations that got too lofty. My upper valuation target on FSLR for the next 6 months remains $160 although the recent move to $175 provides additional upside potential from a technical perspective.
I listened to the earnings conference call and took note of a few things that stood out to me. I was most intrigued by FSLR's description of its ability to respond flexibly to a potential slowdown in European sales, especially in Germany and Italy, by increasing sales in other regions. This capability is earnings management at its finest.
Highlights from First Solar Earnings Conference Call
Potential for a surge in projects in the first half of the year ahead of reductions in subsidies in Europe (especially Germany and Italy). This could cause a subsequent slowdown in the second half. Working to mitigate these risks as follows:
Pricing in the 3rd party module business is sufficient to drive sell-through
(As in 2010) use 4.2GW project pipeline in North America as a buffer against risks in Europe. Will also be increasing pipeline.
Market development in North America, India, Australia, and China
Flexibility is focused on 2nd half of the year – FSLR could go up to the 700MW range
Driving lowest LCOE and maximize yield.
Working to encourage policy in Texas and Florida to support sustainable solar projects.
Approaching grid parity in 2014 in SW USA projects where electricity costs are moving ever lower from 14-16 cents per kilowatt-hour. Grid parity is 10-12 cents per kilowatt-hour.
China has committed to growing a 20GW solar market by 2020.
Working on financing for projects, bonds.
Capital costs in Europe are steadily increasing.
I was surprised that Goldman Sachs raised its price target on FSLR to $190 on the heels of this report, but I am embracing the latest post-earnings disappointment as another buying opportunity. I finally took the plunge and bought back some FSLR as it retested its 50DMA. I am looking for a bounce from oversold conditions.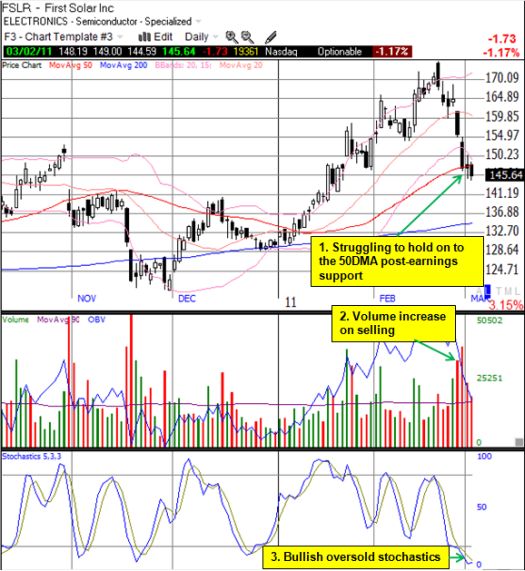 Jinko Solar (JKS)
JKS delivered great results and even better guidance.
JKS reported first quarter and full year 2011 guidance as follows:
"For the first quarter of 2011, JinkoSolar expects total solar module shipments to be in the range of 155 MW to 160 MW. Total revenues are expected to be in the range of US$280 million to US$290million. The Company expects to increase its in-house annual silicon wafer, solar cell and solar module production capacities to approximately 900 MW each by the end of the first quarter of 2011.

For the full year 2011, total solar module shipments are expected to be in the range of 950 MW to 1,000 MW. Total revenues are expected to be in the range of US$1.4 billion to US$1.5 billion. The Company expects to increase its in-house annual silicon wafer, solar cell and solar module production capacities to approximately 1,500 MW each, as compared to its original guidance of 1,000 MW each by the end of 2011."
The 50% increase over the original guidance for in-house capacities is quite remarkable! JKS apparently needs the capacity to keep up with the expected demand. The revenue guidance for the first quarter is 20% higher than consensus and revenue guidance is as much as 50% above Thomson Reuters consensus for all of FY2011 (consensus data from briefing.com). So, it was no surprise that such a highly shorted stock (about 25% of float) gapped up over 11% in reaction to this news. Unfortunately, shortly after the open of trading news broke about reductions in Italy's generous solar subsidies and down went JKS. It closed the down 4%.
The concern for JKS is understandable: 88% of Jinko Solar's Q4 shipments went to Europe and half of that went to Italy. However, with a forward P/E under 5, price-to-sales just over 1, and price-to-book a hair over 2, it seems a lot of risk is already priced into JKS. If I had sold my holdings at the post-earnings open (as I was so tempted to do), I would have already started buying back in. As it is, I am just continuing to hold.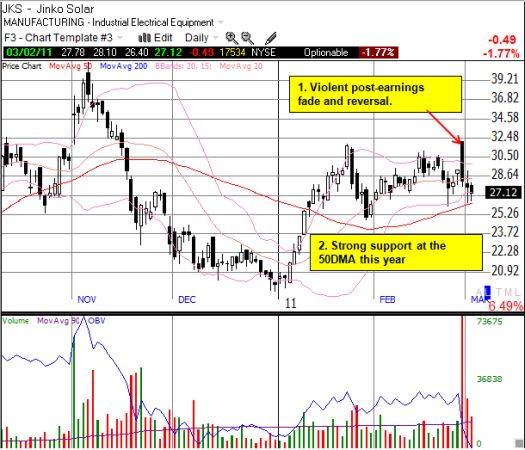 ReneSola Ltd (SOL)
Tuesday's post-earnings sell-off in SOL was a very surprising event for this latest round of solar earnings.
2010 marked a return to profitability for SOL after two years of losses. So it is doubly disappointing that SOL started 2011 by issuing guidance below expectations: for Q1, SOL expects $310-330M vs. $342M Thomson Reuters consensus (briefing.com).
Chief financial officer Julia Xu explained SOL expects competition to crimp results:
"In 2011, we expect to face increased market competition due to additional solar capacities that had been added. Accordingly, we have secured over 20 long-term contracts in 2010, representing 1.3 GW of expected wafer sales in 2011, while our in-house polysilicon production will satisfy approximately 30% of our internal polysilicon demand with a full-year average cost per kilogram between US$40 and US$45."
With full-year shipment guidance of 1.6-1.7GW, SOL has a substaintial amount of its sales locked up. So, an exceptionally low valuation makes SOL a tempting purchase: forward P/E under 5, price-to-sales 0.8, and price-to-book 1.6. SOL has become a favored solar play for me, and I have been on the hunt to start buying back in. The stock is currently retesting the 200DMA and holding on, but with the 50DMA directly overhead, I will try to stay a bit more patient.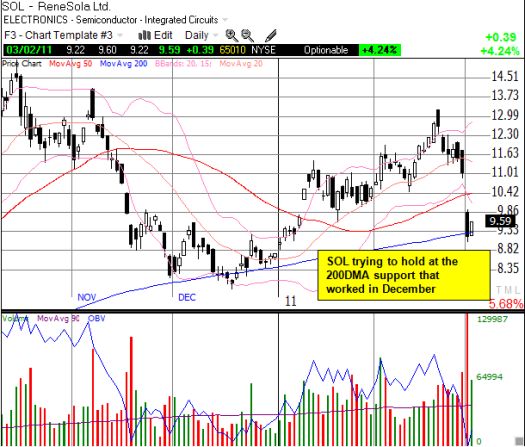 JA Solar (JASO)
I have been looking for an excuse to buy into JASO for a while. With a 10% post-earnings sell-off on good headline results, I thought I had a good enough reason to start nibbling. I added one more tranche on Monday's retest of the 200DMA.
JASO has locked in 90% of its shipment guidance for 2011, so I have been a little more aggressive than usual. It goes without saying that JASO has a low valuation: forward P/E under 5, price-to-sales of 0.7, and price-to-book of 1.1.
Here is JASO's full 2011 guidance:
"Based on strong customer demand for JA Solar's products and a number of new customer wins, the Company currently expects total cell and module shipments to exceed 2.2GW in 2011, representing an increase of approximately 50% compared to 2010. Module shipments are expected to be approximately 500MW to 600MW. Sales contracts signed to date for 2011 delivery amount to more than 2GW, representing approximately 90% of the Company's expected shipments for 2011."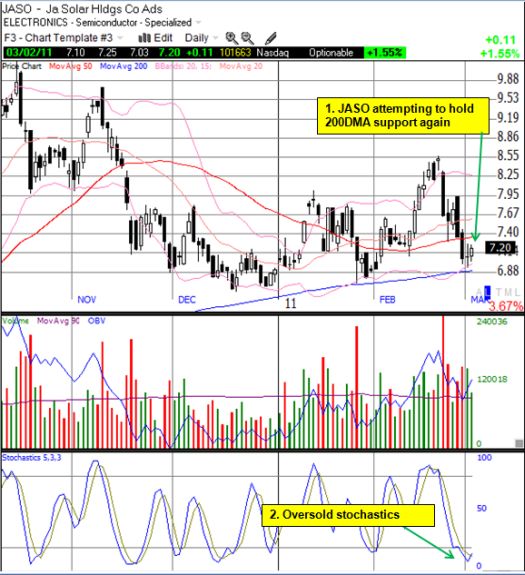 Satcon Technology Corporation (SATC)
Inverter companies were slammed hard this quarter, starting with German inverter company SMA warning about the impact of cuts in German subsidies. As late as September, SMA was still talking about a bullish near-term future. Subsequent reports from inverter companies also came in weak, but SATC received special punishment. SATC dropped 27% post-earnings and even closed below its 200DMA. I decided to take advantage of the firesale and start nibbling on shares.
SATC's 2011 outlook included Q1 revenue guidance below expectations of $75.4M (briefing.com):
"Looking at the first half of 2011, we expect to see some seasonal effect coming from the European region and the North American commercial rooftop business. However, we expect this slowdown to be offset by strong sales into the North American utility-scale market, and orders from our Chinese partnerships.

With a mix shift of sales from Europe to Asia, where ASP's tend to trend lower, coupled with a higher proportion of our sales coming from our newest technology, including the Solstice 500kW solution, which is not yet fully transferred to our high volume Asian manufacturing facility and Asian sources, we expect Q1 revenues to be in the range of $65 to $70 million with our gross margin between 25% to 27%…As we look out to Q2, we expect a significant increase in volume from Europe and North America, and increased gross margin on improvements in our supply chain and greater utilization of our Asian manufacturing facilities. We expect to continue our run of operating profitability throughout the year."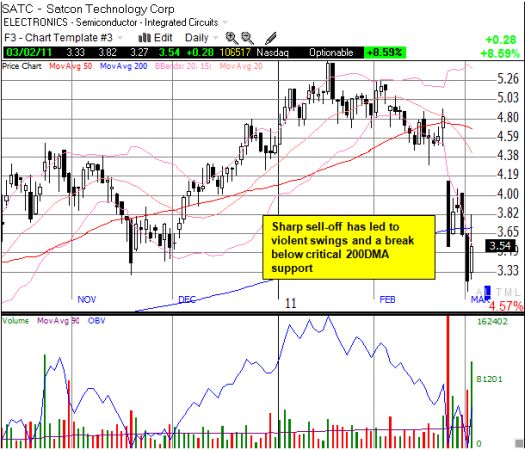 *All charts created using TeleChart:

Shorts
While I have completed a full year of abstinence from shorting solar stocks, plenty of traders are still doing it. I have posted an update of the shorting activity in a select group of solar stocks. I have divided the charts into two groups to make them a bit easier to read. Note in particular how short interest soared on SOL and JASO ahead of poor reactions to earnings.
Click graphs for larger views…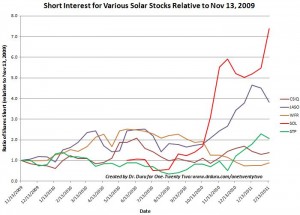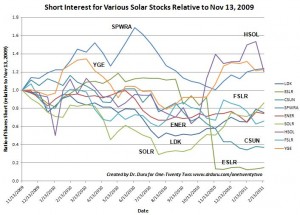 Source: nasdaq.com (for example, FSLR short interest)

Conclusion
My pockets are now more full with solar stocks than I expected after this round of earnings given the risks for the second half of this year. I am encouraged by the relatively strong guidance from most solar companies, but surely any miscalculation will have wide repercussions (like under-estimating the potential for cancellations or assuming only your competitors are the ones who risk under-utilizing capacity). Waiting to buy on the dips mitigates the inherent risks of speculating in what are essentially "hyper-cyclical" stocks, but it does not eliminate the risks. Now, I brace myself…
Be careful out there!
Full disclosure: long FSLR, JKS, JASO, SATC, ESLR (Also on the radar: SOLR, TSL, LDK, and SPWRA)