Lately, it seems I have been pointing out more and more stocks in breakout formations. It makes the skeptic in me a little wary and nervous, but I will keep rolling with what works. And steel stocks have finally started working over the past month. I have to assume that the market is seeking out all the under-loved, out-of-favor sectors that should fare OK if the heightened growth assumptions for 2011 actually come to fruition.
U.S. Steel (X) shot one of the first notification flares when the stock broke out in the beginning of December. Nucor Corporation (NUE) confirmed for me that the breakout in steel stocks is real…and it is even gaining momentum now. NUE updated earnings guidance the morning of December 16th well under consensus expectations for $0.04 EPS in the fourth quarter, yet buyers delivered a quick rebound for the stock. Here is what NUE had to say about its fourth quarter performance:
"…we expect fourth quarter results to be in the range of a loss of $0.10 to $0.15 per diluted share, compared to earnings of $0.07 per diluted share in the third quarter of 2010 and $0.18 per diluted share in the fourth quarter of 2009. The results will be impacted by significant increases in scrap prices and the inability to realize sales price increases quickly enough to benefit the fourth quarter. On the more positive side, utilization rates, while similar to the third quarter, are improving as we progress through the fourth quarter. In spite of the holidays and year-end shutdowns by some of our customers, improving operating rates are resulting in only slightly lower shipments from the third quarter. In addition, we have been able to significantly raise prices for all steel mill products over the last 30 to 45 days. These increases are expected to have a positive impact during the first quarter. We are therefore cautiously optimistic regarding first quarter volume and pricing. On the negative side, it appears that we will continue to experience rising raw material costs during the winter months."
So rising input costs will exact a significant toll on earnings, but there is enough promising potential in this guidance to fuel hope for better results as 2011 unfolds.
At first, the stock reacted as one might expect: it opened down 1.9%. But then the buyers stepped in and took control for the rest of the day. By the close, NUE walked away with gains of 2.3%. NUE followed through on Friday with a small gain. The chart below shows that buying volume has been strong ever since the stock broke out above its 200-day moving average (DMA).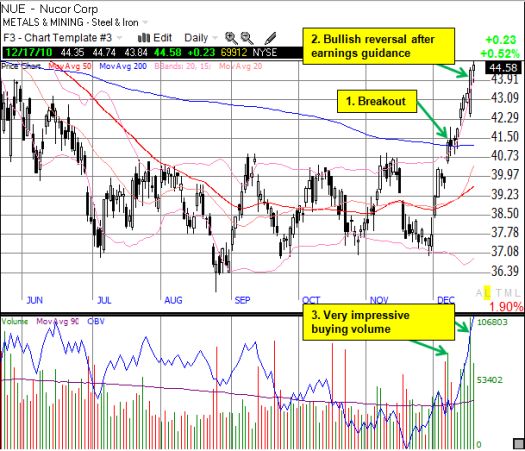 NUE is now at seven month highs. The consolidating churn from the summer to the fall should now provide a strong base for the stock.
Steel Dynamics (STLD) had a similar experience to Nucor on the 16th. STLD guided earnings for the fourth quarter below consensus of $0.11 yet buyers stepped in with volume and delivered a strong close. Here is what STLD had to say:
"The company also expects fourth quarter earnings per diluted share, before certain asset impairment charges related to its fabrication operations, to be in the range of $0.05 to $0.10, consistent with third quarter 2010 earnings per diluted share of $0.09. The company is currently evaluating the assets of two idled fabrication locations for impairment based on current plans for their future use, as these plans were impacted by the company's recent purchase of additional joist locations and equipment. The company currently estimates a fourth quarter impairment charge of $13 million to $15 million, or approximately $0.03 to $0.04 per diluted share.

In recent weeks the company's sheet operations order entry and pricing have increased significantly, but were negatively impacted early in the quarter by reduced volumes and pricing. The company also experienced quarterly improvement in its long product steel operations, notably at its Structural and Rail Division, as volumes and pricing increased slightly and rail became a larger component of product mix. In addition, the Engineered Bar Products Division continues to maintain strong volumes and margins. As a whole, however, the steel operations financial performance appears to be consistent quarter to quarter. Comparative third quarter to fourth quarter metals recycling earnings will be slightly impacted by seasonally reduced volumes, and reduced non ferrous margins."
Once again, embedded within the bad news is hopeful potential for improving results going further into 2011.
After a slightly weak opening, STLD took off with even strong follow-through on Friday. I took my profits in STLD into the run just to lower my overall exposure to the steel sector, but I continue to think of STLD as a high-quality name in the sector (click here for past commentary).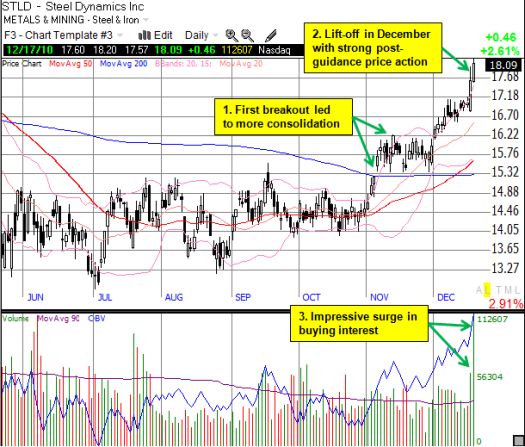 One of my favorite steel stocks is AK Steel (AKS). Throughout most of the economic recovery, AKS has been able to implement price increases across its product lines. However, after the sell-off that began in earnest in April, AKS simply could not gain any momentum. On Friday, finally, it too broke out above its 200DMA on impressive volume. The chart below includes more months to make the technical importance of this breakout more clear.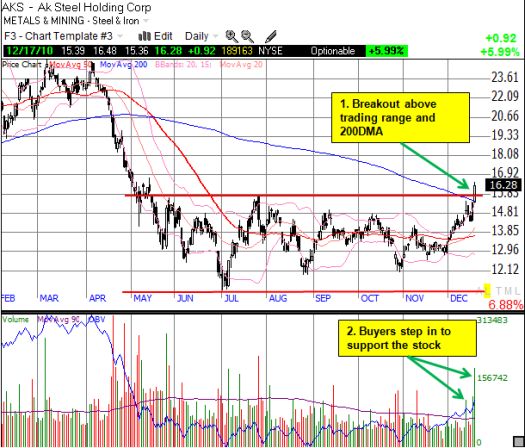 *All charts created using TeleChart:

I will round out this review by mentioning that I am also holding a March 2011 call in Commercial Metals Company (CMC) based on some strong call action in early December. Apparently, there were merger/acquisition rumors at the time, so I consider this my most speculative steel holding. CMC is up 5.4% since then.
The two big catalysts for steel in 2011 will be pricing power and sustainable demand. I will be watching earnings in January closely for a better read on whether these catalysts will deliver sooner than later.
Be careful out there!
Full disclosure: long X call spread and a put, long AKS, long CMC calls