GT Solar International Inc (SOLR) jumped 15% on news that it secured two large orders for its sapphire crystallization systems used in the manufacture of LED products. From the press release:
GT Solar has "…has received its first two orders totaling more than $84 million for sapphire crystallization systems. The orders come from Jiangsu Jixing New Material Co., Ltd and Jiujiang Sapphire Tech Co., Ltd. Total annual production capacity of the two orders is approximately eight million two-inch equivalents (TIE) of sapphire substrates…
…The two orders represent GT Solar's entry into the LED equipment market, which GT Solar stated it would pursue when it announced its acquisition of Crystal Systems in July of 2010. Both Jiangsu Jixing New Material Co., Ltd and Jiujiang Sapphire Tech Co., Ltd are positioning themselves to capitalize on the expected growth of the LED market over the coming years by building the capacity to produce high quality, large area sapphire substrates. These initial customers will be targeting the high brightness LED market segment."
These orders bolster the company's confidence in its bullish view for its business performance in fiscal year 2012. The reaction to this news may also signify the value of product diversification for SOLR (even as the vast majority of its customer base is concentrated in Asia).
As I mentioned two weeks ago, I decided to start building a position in SOLR after reviewing its last earnings report (notes still forthcoming!) and after watching the stock plunge 15% on a bad day for solar-related stocks. That day, November 17th, the general stock market had stabilized after continuing to tumble out of overbought territory. For whatever reason, solar stocks kept on selling off, and it looked to me like an opportunity to buy into some choice solar names.
That day reminded me why I like to wait to buy solar stocks on dips. The continued selling to support at the 200-day moving average (DMA) reminded me of the potential wisdom of scaling into positions with such volatile stocks. Today reminded me of the potential rewards of these strategies.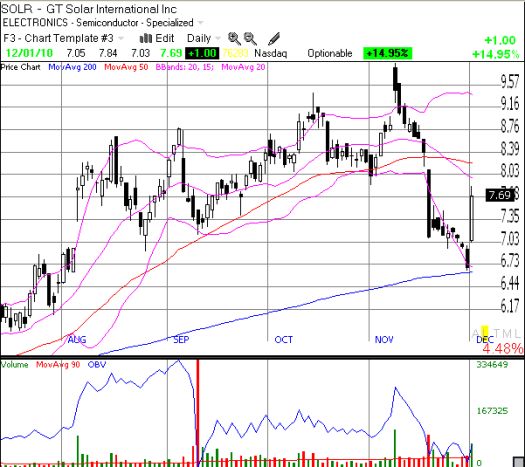 *All charts created using TeleChart:

Also on this day, Wunderlich upgraded SOLR in a statement that seemed almost like a backhanded compliment. The company upgraded its estimates for 2010 solar demand while slightly reducing demand for 2011. From briefing.com:
"Wunderlich is revising upward its expectations for solar demand in 2010 and 2011 with the net result that 2010 is looking to clock in at 91% growth while 2011 is 14%. This is a 15 percentage point increase for 2010 and a one percentage point decline in its 2011 demand forecast from its previous assumption published October 28, 2010. Indeed, 2010 may show 100% growth when it ends and this will not bode well for 2011. Sadly or not, the change in fortune from growing 91% to a virtual standstill will take its toll on the industry and will likely make it a buyers' market. Firm reiterates Buy on SOLR and and Sell on FSLR."
I am not exactly sure how SOLR gets a retieration of a buy recommendation from that assessment, but I will take it.
Be careful out there!
Full disclosure: long SOLR, FSLR