Canadian Solar (CSIQ): 20%
Evergreen Solar (ESLR): 20%
Yingli Green Energy (YGE): 14%
JA Solar Holdings (JASO): 11%
Trina Solar (TSL): 10%
ReneSola (SOL): 9%
These solar companies are the top six performing solar companies in my watchlist….not for the month or the year, but for the last TWO DAYS. While only three of the stocks in the list above are up for the year – JASO, TSL, and SOL, September ended appropriately with many stocks accelerating gains on the month and the year on very good volume.
In early September, I finally recognized that a strong bull run was underway in many solar stocks (Part 1 and Part 2 for starters), but I still did not anticipate just how well these stocks would perform over the course of just one month. The S&P 500 was up 9% for the month (and now running for 16 straight days in overbought conditions), but the two solar ETFs, TAN and KWT, were up 18% and 17% respectively. Both indices are still down significantly for the year, so they cannot convey just how well the strongest solar stocks have fared. A recent WSJ article featured a number of money managers who complained about the inability to distinguish themselves because of high correlations amongst stocks and macro-economic forces. Perhaps they need to investigate solar stocks given the sector's wide divergence in performance this year.
Here is a list of the top performers for September which out-performed the solar indices:
Ascent Solar Technologies (ASTI): 52%
JASO: 52%
LDK Solar: 51%
SOL: 43%
CSIQ: 39%
SunPower Corporation (SPWRA and SPWRB): ~34%
Solarfun Power Holdings (SOLF): 25%
Suntech Power Holdings (STP): 25%
YGE: 24%
Here are the top performers for the year that have gains:
Jinko Solar (JKS): 187% (since its IPO May 14, 2010)
SOL: 163%
Power-One Inc (PWER): 109% (I missed this one in my earlier posts on solar-related stocks in bull rallies)
SOLF: 72%
JASO: 64%
GT Solar International (SOLR): 51%
LDK: 47%
TSL: 12%
FSLR: 9%
Now with another earnings season around the corner, expectations are set extremely high for the solar space. Many solar companies beat expectations last quarter and raised earnings, revenues, and/or production guidance for the third quarter. So, I will be watching earnings throughout the space more closely than ever.
In the meantime, I present a sample of charts of solar stocks that achieved important milestones in the last week. I wish I could post all the charts because each one has interesting (and mostly bullish) features. (I covered LDK in an earlier post and have posted my trades on twitter – click here and here. Finally, I also covered FSLR's breakout in an earlier post.).
Trina Solar (TSL) is finally challenging its all-time highs again. Buying volume surged in the last two days. The stock is also at the beginning of what is known as a "Bollinger Band squeeze" which typically leads to a strong and sustained move. A squeeze occurs as volatility shrinks, leading to an eventual burst of buying (or selling). TSL has had several rallies (and sell-offs) which have tightly followed the Bollinger Band, and I will not be surprised if it happens again here.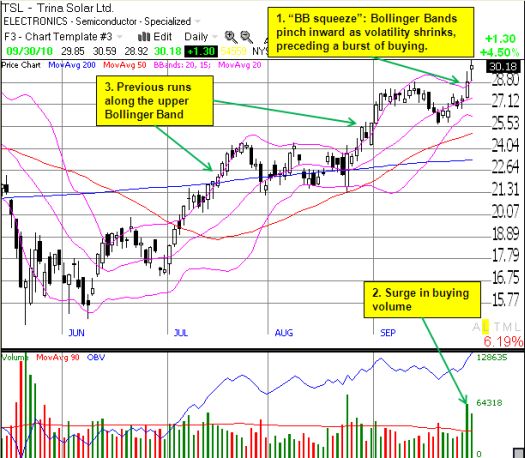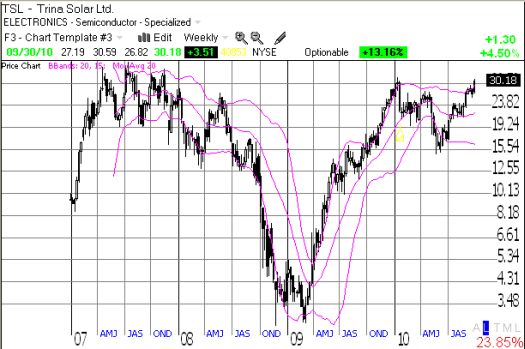 Yingli Green Energy Holdings (YGE) did not make my earlier "stealth rally" list of solar stocks because it was down for the year. It still has a ways to go, but the surge to close out September has delivered an important break-out for YGE. I stretched out this chart so I could show the entire year in a daily format – click the chart for a larger view.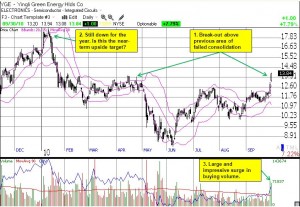 (Click for larger view)
*All charts created using TeleChart:

Be careful out there!
Full disclosure: long LDK calls and long SPWRA, long SSO puts