This is a quick post demonstrating two stocks recovering from post-earnings losses, that is, filling post-earnings gaps down.
Netflix (NFLX) surged 7% on Friday on strong buying volume, smashing through resistance at the 200-day moving average (DMA), and filling a gap created from post-earnings disappointment. Not wishing to press my luck further, I sold my calls right before trading closed. NFLX was an interesting play because it has a strong overall stock chart and the headline earnings suggested the company continues to perform just fine. Here are the factors I considered:
Prevailing uptrend
Recent all-time highs
Earnings guidance in-line, meaning selling likely due to overly aggressive expectations going into earnings
Increased subscriber guidance – a great positive on a closely watched metric for the company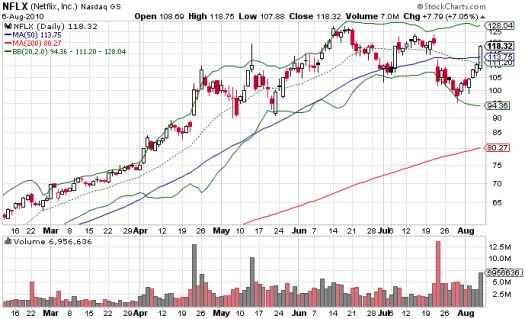 The weekly chart shows how strong buying volume has generally dominated NFLX's trading action – the week of the last earnings announcement is a notable exception. A short interest of 25% of float has likely helped push the stock ever upward as the company continues to perform for now.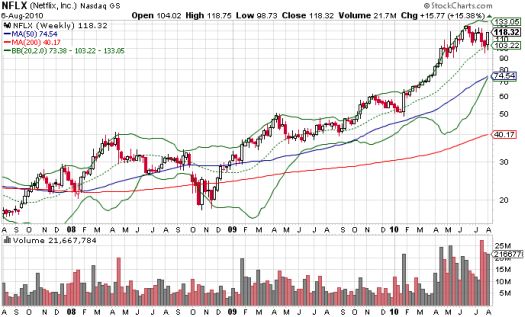 Akami (AKAM) is a stock I have followed closely ever since insiders loaded up on the stock from July 31 to August 3, 2009 for under $17/share. This buying came directly after the market responded to earnings announced the evening of July 29 by sending the stock back to its March, 2009 lows (52-week lows were set November, 2008 below $10/share). I was good enough to follow directly in their footsteps, but not smart enough to hold into 2010 when AKAM's fortunes completely reversed with three-year highs and a complete recovery from post-recession selling.
On July 28, AKAM guided earnings and revenues in-line with consensus and was rewarded with a substantial loss the next day around 13%. The configuration here is almost the same as NFLX, absent the recent all-time highs. The progress toward the gap fill has also taken time before negative momentum ceased.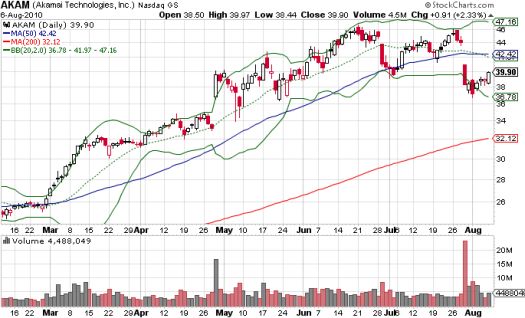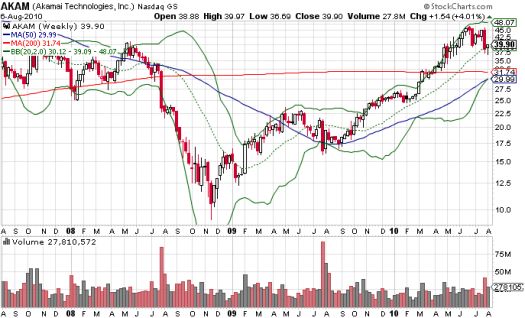 As a reminder these bullish post-earnings plays accompany on-going put positions on major indices. These puts will remain in place until the S&P 500 conquers its June highs; the index churned all of last week without getting the extra push over this "last" bearish technical barrier. In the meantime, numerous individual stocks continue to recoup post-earnings losses (click here for a small sample from late July).
Be careful out there!
Full disclosure: long AKAM calls, short AKAM put, long SSO puts, long XLI puts, long QQQQ puts