I last wrote about Research In Motion (RIMM) in mid-April when I asked "Can RIM's Stock Continue to Float As the Repurchase Program Ends"? The resounding answer is now "NO". RIMM is down 17% since mid-April and has set new lows for the year. RIMM repurchased the bulk of its stock at an average price of $63, so the company is now underwater on its shares. I also expect my core position in the June call spread to expire worthless.
Ironically enough, that fateful day marked a closing high for RIMM's struggle to regain its losses from the last earnings debacle. I noted the bearish technicals at that time pointing to a near-top but chose not to act that time. I had been trading around this core position, going long or short according to the short-term technicals, but I executed no additional trades during the nearly 5 weeks of selling in RIMM (my attention had turned other opportunities, some of which I managed to describe on these pages). The trading bias on RIMM is now solidly bearish, and I will be looking for opportunities to fade the stock at key resistance levels: a close of Thursday's gap down and the 50 and 200-day moving averages (DMAs).
The chart below summarizes RIMM's bearish behavior and technical set-up (click for a larger view):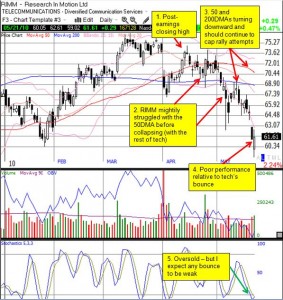 *Chart created using TeleChart:

If RIMM continues to struggle as I expect, RIMM will remain underwater on its repurchase program for some time to come. The next big question is whether the company will decide to initiate another repurchase program with the stock struggling at lower prices. RIMM's confidence in its stock has so far been betrayed by the fall from grace of most big-cap tech stocks. I continue to suspect that the aggressive execution of the last repurchase program reveals RIMM's willingness to purchase more stock at even lower prices.
Be careful out there!
Full disclosure: long RIMM call spread