Big-cap tech stocks have been some of the poorest performers during the recent sell-off in the stock market. Google (GOOG) stands out as one of the worst of the bunch. All technical indicators are pointing to even lower prices before some kind of bottom gets established.
I am fond of trading GOOG between earnings reports. I use an old analysis to estimate GOOG's likely behavior conditioned on the immediate reaction to earnings and the time elapsed since the last earnings report. My biggest success with this analysis came when I nailed the March bottom in GOOG. However, when GOOG revisited those levels a month later after another poorly received earnings report, I pulled the trading trigger too early. Call it the perils of over-confidence bred from prior winnings. I assumed the 50-day moving average (DMA) would provide solid support before waiting to see whether it would hold. My worst case scenario was a retest of the 200DMA – something GOOG had not done since the first half of 2008. Both lines of support failed miserably and without much of a fight. While I still hold a small position in GOOG, the break in the 200DMA has biased my net trading in the stock to the short side (I sold my last put on Thursday's damaging gap down). I think the stock is undervalued at 15x forward earnings, but the technicals are warning me that the cheap will get cheaper still.
I summarize the bearish outlook for GOOG in the chart below (click for a larger view). While many big-cap tech stocks have similarly alarming technical profiles, GOOG's extremely poor relative performance for the year, combined with its failure to maintain gains on a strong rally day for tech, stand out as huge red flags.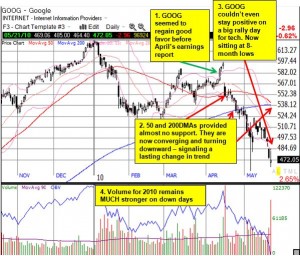 *Chart created using TeleChart:

This chart from StockCharts.com shows that GOOG has not performed so consistently poorly relative to other big cap tech stocks in the QQQQ since at least the end of the last bull market in 2007.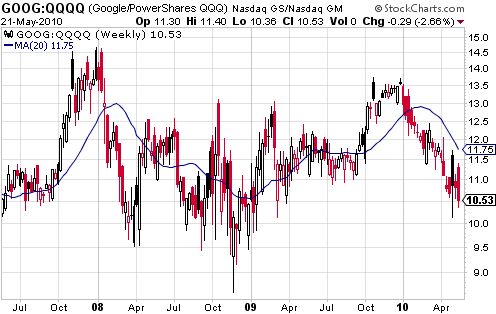 Be careful out there!
Full disclosure: long GOOG (oops!)