It has been such a long time since I have seen the Fast Money crew on CNBC so uniformly fearful and wary about the stock market that I had to scribble a quick post on it as a bookmark for future review. The show's sentiment is very consistent with the confluence and convergence of technical and fundamental factors I have discussed in two earlier posts ("Steadily Rising Stock Market Prices Masking Steadily Worsening Technicals" and "Oversold Conditions Deepen As March-April "Melt-Up" Gives Way to Increasing Market Weakness").


(Click here to go to Fast Money page with video and summary)

However, the crew is not quite collectively bearish because after issuing the dire warnings and sharing the queasy feelings, the various members go on to discuss, for example, why Hewlett-Packard (HPQ) and Visa (V) are good buys: HPQ raised guidance and seems comfortable with its currency hedging and exposure; V appears deeply oversold. Of course, even the worst markets offer up long opportunities, so it is natural for bargain-hunters to catch a scent amidst the bloodshed. (A very interesting contrast/comparison is Jim Cramer who is now emphatically encouraging his listeners to take profits and get out of the way of the increasingly negative market sentiment. He identifies Home Depot (HD) as his pick for a calmer day).
My favorite technical indicator, the percentage of stocks trading above their respective 40-day moving averages (T2108), is now at 23% and has not quite hit oversold levels (20%). I still maintain that this indicator will continue making lower lows over time.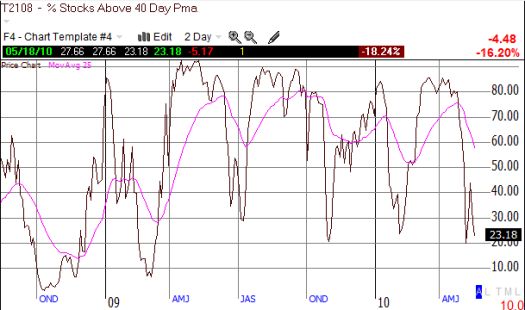 Once (if?) T2108 hits 20% and below, the S&P 500 should retest the 200DMA, the VIX should challeng its highs from the last oversold period, and negative sentiment should accelerate. These are all conditions for a sharp snapback in prices. I do not feel so sure this time that such a relief rally will take the index back to the 50DMA resistance level, but I am more sure it will be a rally that will once again find more eager sellers than buyers.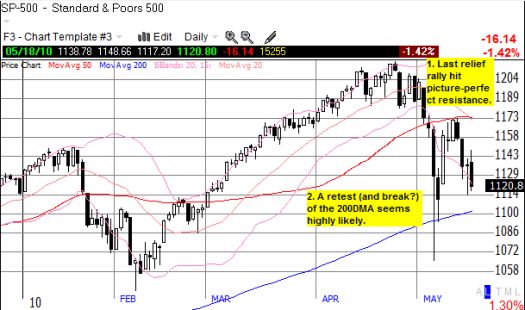 *All charts created using TeleChart:

On a related sidenote, the dollar and the yen have now already punched through their respective "flash crash" highs against almost all other major currencies (charts not shown). It seems only consistent that the general stock market will eventually, and sooner than later, break its flash crash levels.
Be careful out there!
Full disclosure: long V calls