Over the past several quarters I have looked to Acuity Brands (AYI) as a potential signal of the earnings season to come, especially when it comes to commercial real estate. For several quarters, AYI has reported dour news about its industry and the economy. Sometimes traders and investors sold the news, sometimes they bought it. This time around, AYI again indicated that a poor economy will impact its results, but the company expressed confidence in its own performance relative to its industry. The stock launched to fresh 21-month highs on the back of a 6.4% one-day gain. It closed up another 4.7% today. It seems the market is now starting to price in some kind of V-like recovery for cyclicals, especially industrial names. Shorts remain high in AYI at 10% of the float, so it is also possible a fresh short squeeze is underway.
Chairman, President, and CEO Vernon Nagel had the following to say:
"Our results for the second quarter of fiscal 2010 reflect solid performance by our associates in a continuing challenging market. Although our key markets continue to be negatively impacted by the decline in new construction spending due to lower economic activity and tight lending standards for real estate, we were able to hold sales essentially flat through market gains in certain channels, including home improvement and acquisitions. While we experienced an increase in price competition, which was largely anticipated, we maintained our pricing posture in areas where our service and product features are differentiated, while responding to competition in certain channels and geographies as appropriate. Changes in product mix were due primarily to a shift in sales channels reflecting the decline in new construction, largely from commercial and institutional builders. These unfavorable changes in price/mix were offset by lower material and component costs….

…We continue to see a very challenging economic environment for the remainder of our fiscal year 2010. Key indicators for our primary market, non-residential construction, continue to signal a decline. Independent third-party forecasts continue to signal that for our fiscal 2010 the year-over-year percentage decline for net sales in the overall markets we serve will be in the mid-teens. Despite these challenges, we continue to see opportunities…

…Although fiscal 2010 results will continue to be negatively impacted by current economic conditions, we remain very positive about the long-term potential of our company and our ability to outperform the market. We continue to position the Company to optimize short-term performance while investing in and deploying resources to further our long-term profitable growth opportunities…"
Clearly, the market has chosen to focus on the opportunities and all but ignore the on-going malaise in commercial real-estate (today, we learned that office vacancies are at a 16-year high).
I took particular interest in AYI's growing cash cushion from operations and refinancing. Cash and cash equivalents have now soared from $18.7M to $155.8M. While AYI's valuation remains "reasonable," it is getting pricey from an historical basis. Trailing P/E is 22 and forward P/E is 17. The average trailing P/E peaked in 2005 at 19. Price/sales is 1.2 versus the peak average of 1.0 set in 2007. Price/book is 2.8, just under the peak average of 3.0 set in 2008. At least debt-to-equity continues to drop to historical lows, sitting now at an attractive 0.34.
From a technical standpoint, the stock is overbought. However, the volume behind the buying has been impressive, making this breakout more convincing. I might look to buy for a swing trade on a dip with a stop below the pre-earnings close around $42. Other than that, I am still not on the V-recovery bandwagon and remain on watch for the high-volume selling that typically follows low-volume buying (in the general market).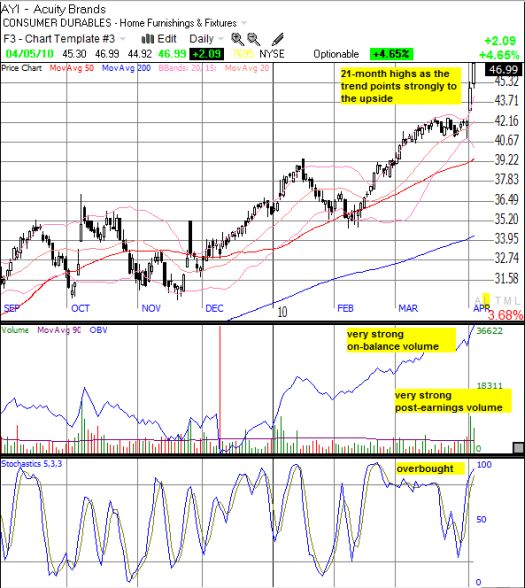 *Chart created using TeleChart:

Be careful out there!
Full disclosure: no positions.