On January 28, QUALCOMM (QCOM) disappointed the market by guiding earnings and revenue expectations down for its fiscal second quarter (pro forma EPS of $0.49-0.53 vs. $0.57 consensus and $2.4-2.6B in revenue vs. $2.75B consensus). The stock closed down 14% on the day on over 6x the 3-month average volume. This surge of selling represented the 14th largest one-day volume ever traded on QCOM. The last time volume was this high was almost NINE years ago on February 23, 2001! Selling volume on Jan 29, 2009 was almost as high.
By last Wednesday, QCOM was down 21% from the pre-earnings close. A 20% correction is often a point to start looking for a bounce, especially after such tremendous selling volume. Sure enough, the last two days have pushed QCOM up 4% on higher-than-average trading volume. A point of optimism for buyers could be that QCOM held full-year earnings guidance to expectations and "only nudged" revenue guidance downward (pro forma EPS of $2.10-2.30 vs. $2.26 consensus and revenues of $10.4-11.0B vs. $11.06B consensus – former revenue guidance was $10.5-11.3B). The chart below summarizes the technical set-up: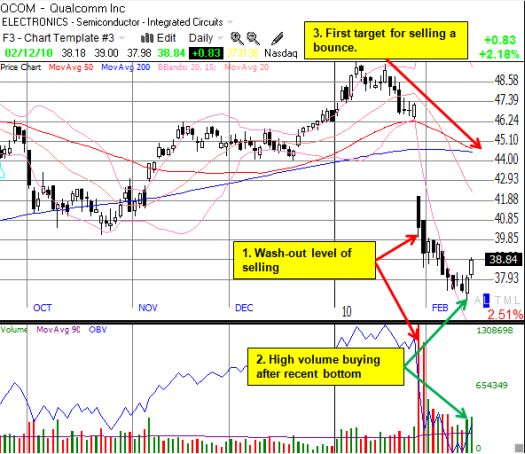 A test of the converging 50-day moving average (DMA) and 200DMA could be an ideal spot to sell if you are playing a bounce or to short if you remain bearish on QCOM (this level also corresponds to the December lows). Longs should stop out below the recent low of $37 (the next support levels are not shown, but they are probably the March low of $33 and then the November low of $29).
The monthly chart below reminds us that QCOM has been a poor investment for a very long time, but it has been a winner for nimble traders. The stock has been stuck in a trading range since early 2004, and it is still trading at 1999-2001 levels. (A break above the trading range could lead to a powerful rally since this would also eclipse the high from 2001).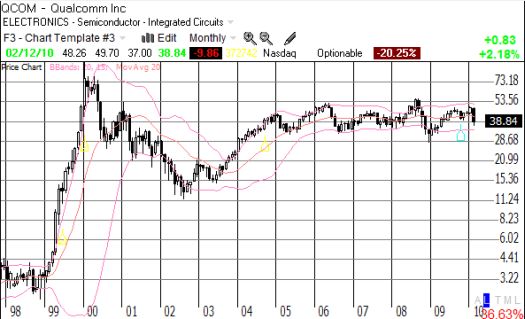 *All charts created using TeleChart:

The current bounce coincides with an upbeat interview with QCOM's CEO Paul Jacobs on CNBC with Maria Bartiromo on Thursday night.
Jacobs had several interesting points and observations. Here are just a few from the interview:
QCOM is trying to drive chipset prices down to put pressure on competitors.
USB data modems sold better than expected and brought down average selling prices for devices.
Japan and Western Europe are particular regions of weakness for the business.
"Smartbooks" and medical devices will be important growth areas.
Be careful out there!
Full disclosure: long QCOM