Bottom-fishing is always a risky business, but sometimes it is worth a try. This is the case with First Solar (FSLR) which has printed several profitable bottoms in the past two years.
After dropping for 11 consecutive days, FSLR finally managed to close with a gain on Tuesday. The 3% increase came on volume almost 50% higher than the 3-month average and formed an "outside day" which often signals a reversal in trend. This kind of trading action always catches my attention – even if I have long been bearish on FSLR (I last made the specific case in August, 2009). The chart below shows the technical set-up.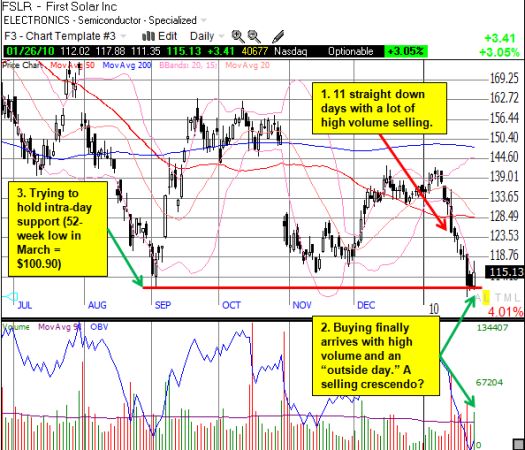 *Chart created using TeleChart:

FSLR is a buy here with a stop no lower than Friday's low. The upside target is somewhere directly north of the 50DMA where rallies from the last two bottoms stalled. (I am mindful that the general market may finally be losing momentum and forming some kind of [near-term] top.)
FSLR has formed five "significant" bottoms in the past two years: Jan08, Nov08, Feb/Mar09, Sep09, and Nov09. Each one has had a slightly different pattern than the rest. For example, the first was in the middle of a strong uptrend and is the only bottom to occur above the 200-day moving average (DMA). The first three featured high-volume selling right into the bottom. The second and fourth were confirmed with a gap up and heavy buying. The third and fifth formed higher lows.
News that Germany would cut its feed-in-tariff for solar energy sooner and larger than expected provided the catalyst for the latest woes in solar stocks. The news was yet more evidence confirming for me that stocks in this sector are more trades than investments (a recent accommodation I had to make after getting blindsided by SunPower's accounting issues). The subsequent slide came directly on the heels of a stellar start to the year with solar stocks clocking double-digit gains in just the first week. With hindsight that early run looks like a pure momentum reaction to the general market rally at the time.
It is not clear what significant positive catalysts lay directly ahead. Indeed, it seems Germany may end up killing a significant portion of small and medium-sized companies with its proposed cuts in subsidies. However, on Tuesday an analyst at Jeffries thinks the selling has become overdone and upgraded several solar stocks. These upgrades certainly contributed to Tuesday's pause in selling. There is also something to be said for companies like First Solar which have already planned for subsidy cuts in Germany. For example, in its December 16th meeting to discuss 2010 guidance, FSLR management indicated that the size and timing of Germany's subsidy cuts were uncertain (as usual, the market generally ignored the warning or assumed the best outcome). FSLR also reiterated its longer-range strategic goals to transition away from the current marketplace heavily dependent on subsidies to a solar market dominated by large scale projects (transition markets). So, by all measures, FSLR is prepared (or preparing) for the challenges ahead.
I also took advantage of the recent selling to finally dip into Trina Solar (TSL). TSL is not overly reliant on Germany and is making headway in further diversification. The 50DMA did not hold as technical support, but the strong uptrend remains intact for now (chart not shown). I also dipped back into SunPower (SWPRa) as another test of the March lows. Earlier this year, I sprinkled in some speculative juice with June calls on Energy Conversion Devices (ENER).
Be careful out there!
Full disclosure: net long FSLR; long TSL, ENER, and SPWRa