Over the past three days, the S&P 500 finally broke upward out of a five-week trading range (the NASDAQ has had a much more aggressive breakout). Well before this latest bullish move, many stocks and whole sectors soared higher in a "stealth" rally. Steel companies U.S. Steel (X) and Nucor (NUE) are two stocks in the middle of stealth rallies that have caught my interest.
While the steel ETF has more or less followed the S&P 500, X has soared 64% from its recent low on November 1 and has jumped 26% in December. The stock now sits at 14-month highs. NUE is up 20% from its recent low on November 1; about half of those gains have occurred in December and in the past six trading days. NUE remains stuck in a 15-month trading range. (Charts posted at the end of this post).
Bearish bets in the form of puts and shorts have increased along with the appreciation in X's stock price. This indicates a high amount of skepticism that runs contrary to the current trend and momentum. Schaeffer's Research noted the heavy put and short activity in X last week:
"Put volume was unusually heavy last Friday [Dec 18] on United States Steel Corporation…, with activity rising to 1.91 times the usual level. During the course of the session, traders on the International Securities Exchange (ISE) bought to open 6,177 puts on X, compared to just 390 calls…Friday's most active strike was X's January 2010 45 put…open interest at this strike swelled over the weekend from 9,341 contracts to 22,005 contracts…The security's 10-day ISE put/call volume ratio checks in at 2.36, as puts bought to open have more than doubled calls during the past couple of weeks. This ratio ranks higher than 98.8% of comparable readings taken during the past 52 weeks, marking a near-peak of pessimistic speculation among traders on this exchange…
…short interest on X rose by 8.1% during the past month, and now accounts for a lofty 17.6% of the equity's available float."
The rise in shares of NUE have also attracted skeptical traders. Today, Schaeffer's noted a shift in sentiment toward a bearish bias on NUE:
"During the past 10 trading sessions, two puts have been purchased to open for every one call purchased to open. This ratio of puts to calls is higher than 99.6% of all the readings taken during the past 12 months, pointing to a growing pessimism among speculators."
When I observe rallies like these in parallel with this month's rare sign of strength in the dollar, I do not just see a sharp short squeeze. I also see very optimistic bets on a very robust economy for 2010. The recent optimism in these shares is a stark contrast to the quick trigger selling that led to the aforementioned November lows following sobering earnings reports from both companies.
For example, U.S. Steel warned that "…we remain cautious in our outlook for end user demand as customer order rates in Flat-rolled and U. S. Steel Europe (USSE) have decreased from the third quarter, partly due to seasonal slowdowns, and we will continue to adjust production to meet our customers' demand." Additionally, Nucor insisted that "the segment of the economy we serve is not improving."
It is certainly possible that the optimists are looking forward and the pessimists are looking backward. Regardless, the intensity of such bull vs bear battles should make for an explosive January earnings season for stocks like X and NUE that are rallying hard and fast into year-end.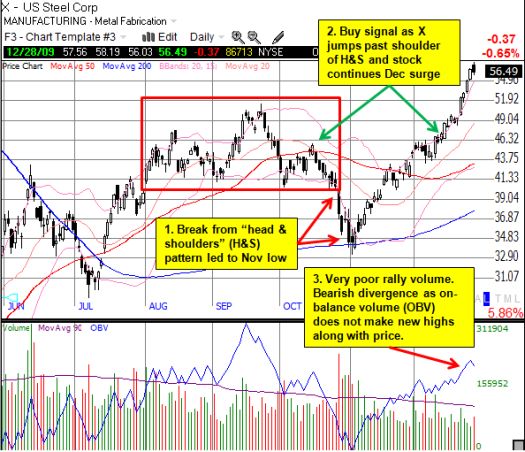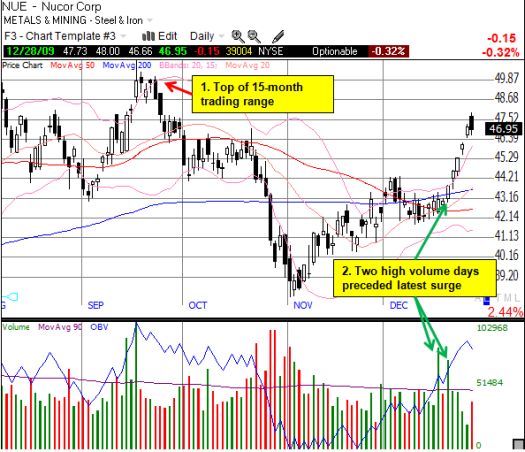 *All charts created using TeleChart:

Be careful out there!
Full disclosure: no positions