Speculative stocks typically get hit the hardest during corrections in the stock market, and solar stocks definitely qualify for a beating. In the past 4 days of selling, TAN, the Claymore/MAC Global Solar Energy Index, is already down 10%. Solar stocks have been big laggards this year as TAN is now back to even on the year. See chart below: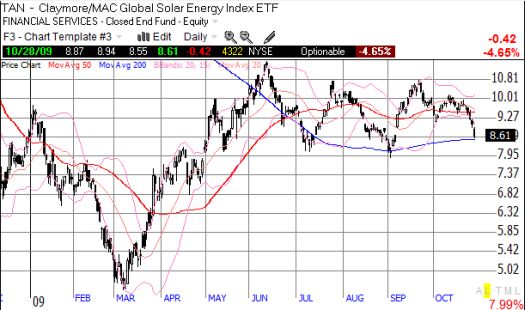 *Charts created using TeleChart:

When I last did a round-up of solar stocks, they had suffered greatly during the brief sell-off that began the month of October but most remained comfortably within trading ranges. The current correction has caused some serious breakdowns that will likely take most stocks in the group much lower before the carnage ends. Rather than post a bunch of charts, I am just listing stocks by their position relative to the important daily moving averages: 50DMA and 200DMA.
Above 50DMA and 200DMA (still trending upward)
Trina Solar Ltd. (TSL)
Below 50DMA only
Yingli Green Energy Holdings (YGE)*, Canadian Solar (CSIQ)*,
Below 50 and 200DMA
Ja Solar Holdings (JASO)*, GT Solar International (SOLR), LDK Solar (LDK), SunPower Corporation (SPWRA)*, First Solar (FSLR), Energy Conversion Devices (ENER), Solarfun Power Holdings (SOLF), China Sunergy (CSUN), Suntech Power Holdings (STP), ReneSolar (SOL), Evergreen Solar (ESLR), MEMC Electronic Materials Inc (WFR)
*still within trading range
TSL remains the biggest winner in this group. However, what sticks out the most from this list is that most solar stocks are not only breaking down from important technical levels, but also have already broken down below (multi-month) trading ranges. The fresh disappointment in FSLR's earnings almost guarantees that these breakdowns will continue in the near-term. TAN should also break down below its 200 DMA.
I started scaling back into SPWRa during this selling. In a quarter where most companies are still reporting tremendous year-over-year declines in revenue, SPWRa reported a 56% increase. These shares still look exceptionally cheap to me and are pricing in the rough waters ahead. I am sticking by STP for now, but I am wary of earnings. The November speculative calls on SOL are likely a complete loss. I remain very intrigued by TSL, and I eagerly await the company's next earnings report. WFR proved once again that it cannot escape its operational issues. I will not be surprised if ESLR breaks its March lows and trades under a dollar by year-end. Finally, I am still net short FSLR, but I will likely scale back some of the position amidst the post-earnings wreckage. As expected, gross margins continue to decline for FSLR. For some reason, the market continues to be surprised by this decline although FSLR telegraphed this decline at its analyst's day back in June.
Be careful out there!
Full disclosure: TAN and positions explained above.