"…we do not believe that real demand…has really improved much since the end of last year, and we don't see things in the economy from a flat roll standpoint or long product standpoint whether you're talking automotive, construction, housing, non-residential construction, oil county[sic] goods or what have you, we don't see that there is a real uptick in the demand…despite what a lot of people like to talk about in the press and maybe Wall Street, the segment of the economy that we serve which is the real core of the economy is not improving…." – Dan Dimicco, Chairman, Chief Executive Officer, and President, Nucor Corporation (Q3 2009 Earnings Call, October 22, 2009)
Steel producer Nucor Corporation (NUE) typically includes colorful commentary on economic conditions in its earnings conference calls, and last week's gathering did not disappoint. Dimicco in particular described an American economy that remains fragile where "…real demand is in for a long slow recovery." (All quotes from Seeking Alpha transcripts). These dour expectations stand in stark contrast to the more upbeat tone of The World Steel Association who forecast that global steel demand in 2010 would recover to 2008 levels. Since NUE only exports a small portion of its total shipments – 10.5% year-to-date and 12.5% in the third quarter – it is not benefiting much from the more robust demand that appears to exist outside the U.S.
The news from NUE also stands in stark contrast to the upbeat headline news coming out of many big-cap technology companies like Intel (INTC). If we assume that NUE's bad news about the American industrial economy represents what is happening to the core of the economy, then even those companies enjoying good results today are headed for sharp disappointment in the coming quarters, at least in their U.S. businesses.
NUE partially balanced the bad news about the economy with the good news about its own performance given the poor economic conditions.
I will start with the good news:
"We have maintained Nucor's strong financial position without laying off a single Nucor employee through this unprecedented downturn" (part of a no-layoff policy for over 40 years!)
"Third quarter steel mill capacity utilization….third quarter rate of 69% is up from 46% in the second quarter…utilization rates were up in all products, but most dramatically in sheet and plate."
"Third quarter 2009 total steel shipments and production increased by more than 40% from second quarter 2009 levels."
And now, the bad news. (Note well that customers have taken full advantage of very short lead times at steel mills by delaying orders as long as possible. This behavior has greatly reduced visibility into customer demand and increased uncertainty in forecasts).
"…there has been no meaningful real improvement in end-use demand…Our expectation is for no significant improvement in end-use demand over the balance of this year."
"Steel demand remains weak across all product…"
"We may have experienced a peak in pricing at the end of the third quarter and beginning of the fourth when it comes to flat rolled, whether it be hot rolled, cold rolled, or galvanized."
"The so-called stimulus has been extremely disappointing from the standpoint of steel consumption and infrastructure work, and whatever has been ballyhooed in the press has really been of insignificant nature, and our customers will second and third that."
Dimicco also warned analysts that the cash for clunkers program only provided a temporary boost to demand for cars, and "…it is already apparent that heavily indebted consumers are again staying away from the automotive showrooms." Finally, Dimicco stood on his soapbox to plead with the government (Democrats and Republicans) to focus more on job-creation. You can watch him discuss this issue in detail in an interview with Jim Cramer on Mad Money:
The difficulty in NUE's business is reflected in a stock that is now down 12% on the year (the S&P 500 is up 17% this year). While NUE remains trapped in an 11-month trading range, the stock has experienced selling intensity following last week's earnings release not seen since the February/March lows. The stock now looks set to go even lower over the next several weeks. I have posted the current chart below: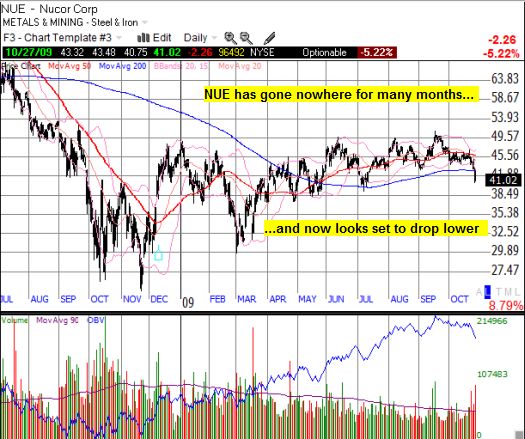 *Chart created using TeleChart:

Be careful out there!
Full disclosure: no positions