- January 16th, 2013
(T2108 measures the percentage of stocks trading above their respective 40-day moving averages [DMAs]. It helps to identify extremes in market sentiment that are highly likely to reverse. To learn more about it, see my T2108 Resource Page. You can follow real-time T2108 commentary on twitter using the #T2108 hashtag. T2108-related trades and other trades are posted on twitter using the #120trade hashtag)
T2108 Status: 80.8% (11th overbought day)
VIX Status: 13.4
General (Short-term) Trading Call: Initiate small short position if holding none already, sell some longs.
Reference Charts (click for view of last 6 months from Stockcharts.com):
S&P 500 or SPY
SDS (ProShares UltraShort S&P500)
U.S. Dollar Index (volatility index)
VIX (volatility index)
VXX (iPath S&P 500 VIX Short-Term Futures ETN)
EWG (iShares MSCI Germany Index Fund)
CAT (Caterpillar)
Commentary
There is not much to say about the S&P 500 (SPY) and T2108 right now. T2108 is on its 11th overbought day, now past the median 4.0 and the average of 9.2 days. T2108 is extremely overbought in that it has traded at or above 80% for all but the first day of this overbought period. Alongside this aimless wandering is the S&P 500 which has barely budged for four straight days and still lingers around the 52-week and multi-year high.
Given this drip-drip-drip movement, it is very likely that the small number of SSO puts I bought will expire worthless this Friday. I bought these puts in anticipation of some kind of a pullback by then. My next strategy will be to literally sit and wait for some kind of clue for the market's next inclination. A small breakdown close below an important intraday low – like 1461 from January 10th when the S&P 500 last had a small rally – will trigger a fresh set of SSO puts. On the bullish side, the market remains two trading weeks away from the point where I consider switching to a strategy of buying dips and selling quick. Recall this strategy for trading extended overbought conditions worked for about a month last year. This time around, I will be more hesitant to trigger this strategy given the looming budget battles and my realization that the likelihood of a very bad (short-term?) outcome is much higher than I originally presumed.
On the positive side, there are still plenty of bullish charts for any weather. For example, the mid-cap stocks are trading at all-time highs, represented in the SPDRs S&P MidCap Trust Series ETF (MDY).
Daily T2108 vs the S&P 500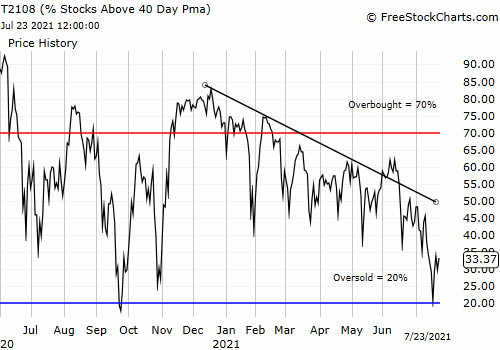 Black line: T2108 (measured on the right); Green line: S&P 500 (for comparative purposes)

Weekly T2108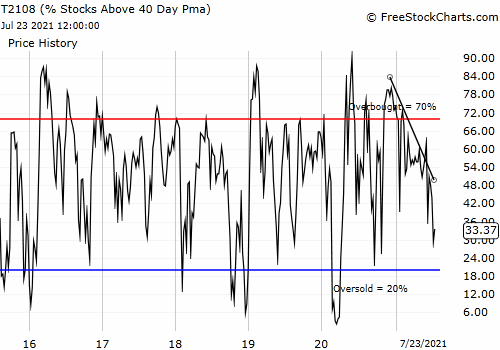 *All charts created using freestockcharts.com unless otherwise stated
Related links:
The T2108 Resource Page
Expanded daily chart of T2108 versus the S&P 500
Expanded weekly chart of T2108
Be careful out there!
Full disclosure: long SSO puts
© Copyright 2011 ONE-TWENTY TWO - All Rights Reserved