The Trade
After a relative experienced a positive process in buying a used car from Shift Technologies (SFT) several years ago, I kept an eye out for the opportunity to invest in the company. That opportunity came this year with an acquisition by Insurance Acquisition Corp in the form of a SPAC (Special Purpose Acquisition Company). I bought some stock shortly after the SPAC and right before SFT broke down below important support in October . I accumulated more shares ahead of the small run-up into earnings. The stock market crushed SFT in the wake of those earnings. However, I am a bit relieved as insider buying drives the stock off fresh all-time lows.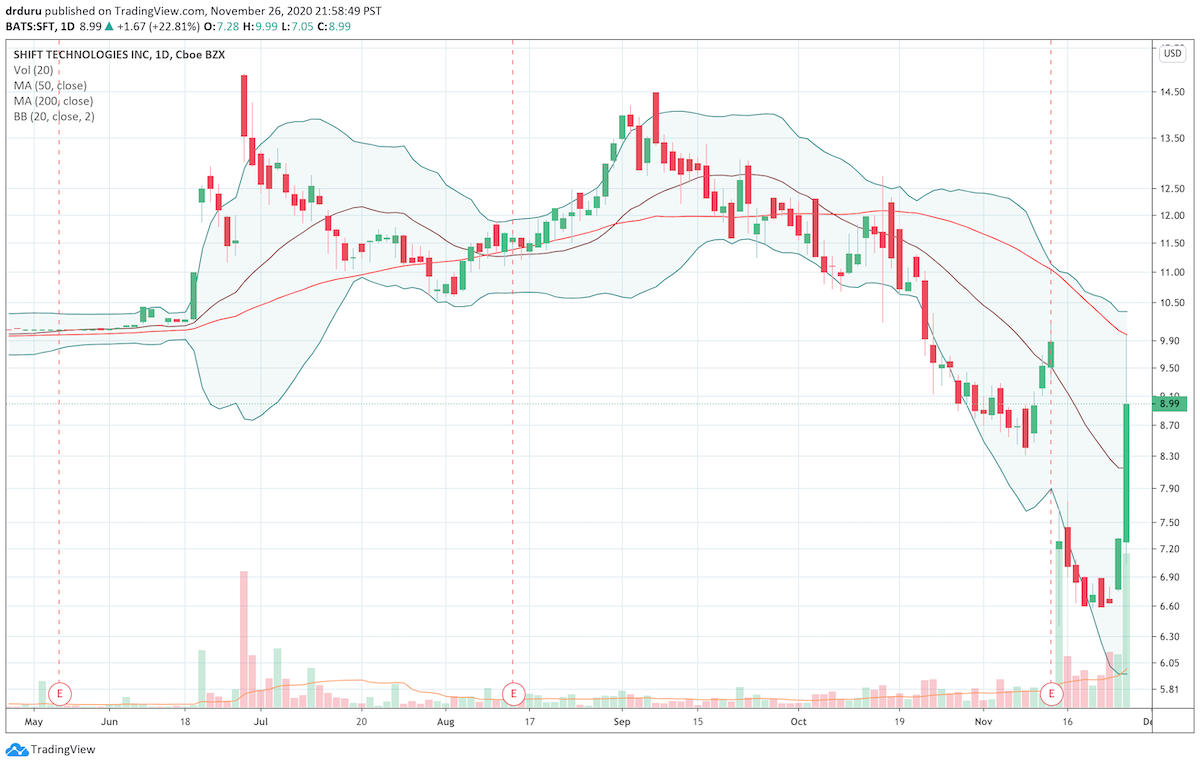 Insider Buying
On Tuesday, November 24th, the company issued a very encouraging press release to announce insider buying:
"Shift….announced both completed and intended purchases of SFT Class A common stock on the open market by certain executives and board members: Co-Founder and Co-CEO George Arison; Chief Operating Officer Sean Foy; Chief Revenue Officer Mark McCollum; and Board Member and Audit Committee Chair Victoria McInnis."
While the company did not announce the amount of the insider buys (no SEC filing exists at the time of writing), the breadth of participation delivers a strong buying signal. Indeed, Shift Technologies went on to declare…
"Our decision to purchase shares on the open market reflects our continued confidence and excitement about Shift's opportunity in the $840 billion used car market…"
The stock is now a clear buy-on-the-dips. Insider buying drives stock momentum. As a result, I plan to accumulate more shares, more aggressively.
The Opportunity
A Seeking Alpha article published a month ago titled "Pick Shift Over Carvana And Vroom" gives a good primer on the company's background, operations, and the investing thesis. The valuation comparison really caught my attention: "Despite estimates for over 100% growth over the next few years, Shift is valued at a measly 1.3x 2021E revenues, or around $500mil." Competitors Carvana (CVNA) and Vroom (VRM) sold at 4.6 and 2.4 multiples at the time. Yahoo Finance now reports SFT at an enterprise value of $877.4M which boosts the presumed multiple to 2.2.
Earnings
The first earnings report as a publicly-traded company is even more interesting. I did not read or hear anything that tells me to throw the stock overboard like the stock market did. Here are some key highlights for the second quarter:
Year-over-year revenue growth of 31%, hitting a record $59.9M
Gross profit per unit flipped positive
The detailed shareholder letter provided the financial outlook. Here are some key highlights:
Increased Q4 revenue guidance: "in the range of $72 million to $75 million, representing 163% – 174% year over year growth, the strongest revenue growth rate in the Company's history." Q4 revenue will also be a quarterly record for the company.
"Adjusted EBITDA Margin to improve by 250 – 350 basis points year over year in Q4."
Gross Profit per Unit (GPU) will grow 100%-200% year-over-year which was a reduction to accommodate investments in overtime and a third party conditioning company to deal with outsized demand for used cars.
Perhaps the drop in GPU guidance is what spooked the stock market. If so, this bout of market inefficiency carved out a fantastic buying opportunity. (CEO Toby Russell spoke to Yahoo Finance about the large upside opportunity for on-line sales of used cars).
Be careful out there!
Full disclosure: long SFT, long VRM shares and short call