On March 16th, ShotSpotter (SSTI) released earnings guidance with a press release titled "ShotSpotter Responds to the Covid-19 Challenge" and the sub-title "Company Initiates Resiliency Plan to Maintain Gunshot Detection Services With a Remote and Distributed Incident Review Center." After providing details on the emergency actions the company is taking in response to protecting the health of employees and customers, ShotSpotter announced reduced revenue guidance for the fiscal year ending December, 2020 from $48-50M to $46-48M. In response, the stock market dumped SSTI for a 13.3% loss. Two days later the stock soared right back and reversed that loss. The wild ride left SSTI struggling to cling to converged support around its 50 and 200-day moving averages (DMAs).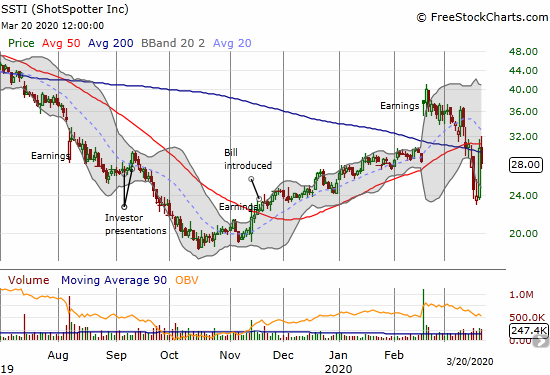 I was surprised by the initial selling, but the Culture of Collapse in the current financial market means that over-reactions and deep price plunges have become more of the norm. In that context, the SSTI sell-off is not as surprising. I used the pullback as a fresh buying opportunity. I was looking for just such a pullback to add more shares. I sold half of my position last month after seeing STTI fail to make more post-earnings progress. (This process of selling half of shares after large run-ups and buying subsequent dips has put me deep in the money on SSTI versus "the house").
The go-forward risks for ShotSpotter are very real. The company's travel ban will make it much harder to do business deals. The company is hopeful the travel ban will be short-lived, but there is no way to quantify the duration of the coronavirus crisis. Government buyers will be much more focused on emergency aid for unemployed and financially strapped residents than buying and maintaining crime-stopping technology.
I take some solace in ShortSpotter's carefully managed balance sheet. ShortSpotter has $24.6M in cash, cash equivalents and restricted cash. The company is generating positive operating income and has unique and valuable technology. As a result, I will buy yet more shares if SSTI sells off to even lower levels. If previous support around $19 breaks, I am looking at $13 as the next support and buying opportunity.
Be careful out there!
Full disclosure: long SSTI